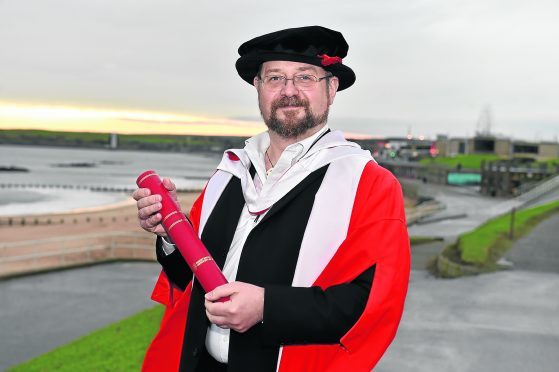 Bestselling author Stuart MacBride has revealed he was "very chuffed" to be presented with an honorary degree.
The crime writer was made an honorary Doctor of Literature during a Robert Gordon University graduation ceremony yesterday.
Raised in Aberdeen, Mr MacBride has used his knowledge of the city as a backdrop for his Logan McRae crime thrillers selling millions of copies since his first novel was published in 2005.
He told the Press and Journal it was a great way to round off his year.
He said: "I'm feeling really both honoured and cheery.
"This is very special because I never expected any of this.
"I never expected to be a writer, so to be here after 16 books and getting this from a university in Aberdeen where I've written about, I'm just very chuffed."
In his acceptance speech Mr MacBride told graduates they should be prepared to fail to succeed in life.
Highlighting the bright red trainers he had paired with his suit, he quipped that he had intended to imitate the style of actor David Tennant who was known for sporting the look during his stint on Doctor Who. But he later discovered that they matched the red gown he was given – inadvertently pulling his whole outfit together.
Mr MacBride said his life had not taken a straight path.
He said: "I was going to be an architect, I went to Heriot-Watt university but I hated it.
"It was a massive failure and I should never have gone there, but I went on to something else, had a bit of success and a bit of failure and moved on. If you don't try things and you're not prepared to fail, all you will ever do is that one safe thing.
"History is never made by people who do the safe one thing."
RGU Principal Professor Ferdinand von Prondzynski said: "Stuart is a hugely respected and admired author here in the north-east of Scotland and worldwide, having sold more than 3.5million books, and his writing has been recognised with several awards.
"We are very proud to be able to recognise him in this way."