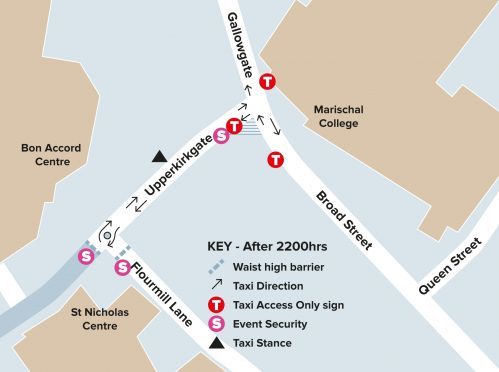 An Aberdeen city centre street will temporarily reopen to traffic this week after mounting complaints from local traders and shopkeepers.
The £3.2million pedestrianisation project on Broad Street has suffered numerous delays, leaving traders on Upperkirkgate complaining of being unable to receive deliveries and attract customers.
But on Sunday, the street will open eastbound for traffic travelling towards Gallowgate, lifting the current closure between the junctions with Flourmill Lane and Gallowgate.
Works to complete the project will commence again in January with a further update on planned closures expected from the council then.
Marie Boulton, council masterplan spokeswoman, said: "Reopening Upperkirkgate in December will enhance accessibility and traffic flow during the busiest shopping month of the year and is a positive step forward as we work towards the overall vision for Broad Street and the surrounding area. We are continuing to engage with traders on Upperkirkgate, with a meeting scheduled for early in the new year to provide a further update on the milestones and timeline of the project."
Andrew Begg, who owns the Andrew Begg Shoe shop on Upperkirkgate, said his business has been forced to deal with a decrease of up to 10% of sales since the closure in June.
He said: "If Broad Street had been used as a dumping ground for all the construction materials instead of Upperkirkgate, we would never have had this problem. And the Christmas Market hasn't been helping us either.
"People go to the market to shop, so catering businesses like Starbucks and the Kirkgate Bar have had people popping in for a drink, but it's not as if people visiting the Christmas market have come to us to buy a pair of boots.
"There really should be compensation for businesses that have been impacted.
"The whole thing has been really poorly thought out."