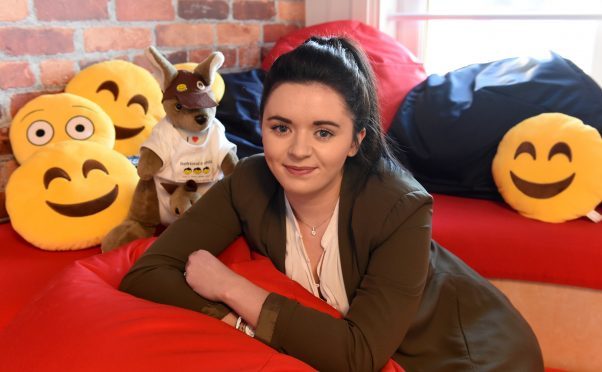 An office manager believes she has made a pal for life after befriending a five-year-old girl through a children's charity.
Danielle Kerr signed up to the Befriend a Child scheme almost four years ago, taking on the responsibility of brightening up the days of a little girl who had experienced "a lot of loss" in her early years.
The 28-year-old says spending a few hours every fortnight with her little chum is now a highlight of her calendar.
And Miss Kerr, of Aberdeen, hopes that she will remain bonded to her friend for decades to come.
She has now spoken out about her experiences, in an effort to cast light on the work the charity performs and to persuade others to donate their time.
Befriend a Child helps disadvantaged or troubled school-age children across Aberdeen and Aberdeenshire by pairing them with a suitable volunteer to spend quality hours together.
Miss Kerr, who works for the Pangeo Subsea oil firm, became aware of the charity through a family acquaintance.
She said: "I thought it was a brilliant idea, but never thought I was old enough or would be able to commit the time to volunteering.
"But when I went into their office to donate some items for their charity shop, people there showed me around and I realised I could do it.
"I got really emotional when a support worker told me about an eight-year-old boy they were supporting, who had never been to the park before."
There followed a series of interviews and police checks to determine whether Miss Kerr was a suitable candidate, and to ensure she was matched with the right person.
The girl Miss Kerr was paired with had just turned five, and had been through a tough time.
"She had suffered a lot of loss in her life, with people in her family passing away", the volunteer explained.
But she added: "That first day, we stayed in the charity's base but we soon had our first outing to the circus and it turned out playing in the park was her favourite thing to do.
"She has changed so much since then, and become such a confident girl.
"I want to be someone she can have as a friend for the rest of her life, I really hope that happens."
Befriend a Child
Befriend a Child has supported more than 1,100 vulnerable youngsters across the city and Aberdeenshire since 2000.
And staff are looking forward to a bright 2018, after its Bon-Accord Square base was recently refurbished.
Now, one-to-one support sessions between volunteers and vulnerable children can take place in a freshly revamped kitchen, basement playroom and games room.
The kitchen was furnished with entirely new equipment by Ikea, while the Apache oil firm refurbished the games room at a cost of £14,000.
And the basement has been given a £15,000 overhaul courtesy of the Wooden Spoon charitable trust, with ample space created for arts and crafts and play activities.
Head of operations, Jean Gordon, said: "It's great that groups are giving us these gifts.
"The kitchen is important as a lot of our children don't get the opportunity to try cooking at home.
"Likewise, the media room allows youngsters to watch a whole film in peace which might be a rare thing for them.
"I have been with the charity for 18 years and have seen it grow from having 38 children then to 159 now."
Analysis carried out earlier this year revealed that 96% of Befriend a Child volunteers said they developed a trusting relationship with the youngster they were placed with.
It also discovered that 50% of befrienders felt that volunteering for the charity had a positive impact on their careers, with some considering a change of occupation after discovering a love for working with children.
The organisation's head of marketing, fundraising and external affairs, Richard Stewart said the organisation was becoming more essential.
He said: "As the low oil price continues to take its toll on the Aberdeen economy and more people need to make use our services, we are coming into contact with families we would never have seen in the past."