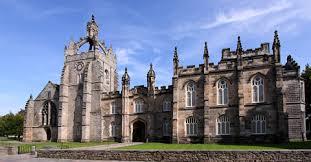 Aberdeen University has more struggling students seeking emergency cash support than any other higher education institution in Scotland.
New figures show that ancient university had 7,025 applications for financial assistance in the last five years, including 1,337 last year.
Aberdeen University, which said it operates a different system from many others, had the most requests for help in the country in each of the last three years, according to research carried out by the Scottish Liberal Democrats.
The city's Robert Gordon University had the lowest number among the established universities, however, with 1,349 students applying over the last five years, including 241 in 2016/17.
Across Scotland, there were 53,326 requests over the five years, with 9,772 made last year.
Tavish Scott, Shetland MSP and Scottish Lib Dem education spokesman, said: "These figures show that in the last five years, tens of thousands of students at Scottish universities have had to reach out to university authorities to say that they are struggling to keep their heads above water.
"On the SNP's watch's student debt has instead soared and bursaries and grants have been reduced. Fewer students from poorer backgrounds are getting help and those that do are receiving much less, despite inflation and accommodation costs rising.
"This is a desperate record."
An Aberdeen University spokesman said: "The university provides discretionary funds to help undergraduate and postgraduate students where circumstances indicate a clear need for assistance.
"It is important to make clear that we process applications on a weekly basis, with no limit on the number of applications students can make, meaning that we give out many more awards at smaller values than other universities, who commonly only allow students to apply once a term.
"We encourage any students who are experiencing financial difficulties to contact our student support services, where advisers are on hand to provide guidance on the full range of support available to them."
A Scottish Government spokeswoman said: "This government is investing a record amount in student support and our action to help students who need additional financial assistance the most has resulted in thousands more qualifying for a bursary or increased bursary funding.
"Furthermore, our commitment to free tuition means that, unlike elsewhere in the UK, Scottish students studying in Scotland do not incur additional debt of up to £27,000 and average student loan debt here is the lowest in these islands.
"We are giving active consideration to what more we can do, in light of the recommendations of the independent review of student support to fundamentally change the way students are supported financially.
"We have already committed to raising the repayment threshold for student loans to £22,000 and reducing the maximum repayment period to 30 years and have set aside an additional £5 million in the draft 2018-19 budget to begin implementing its findings."