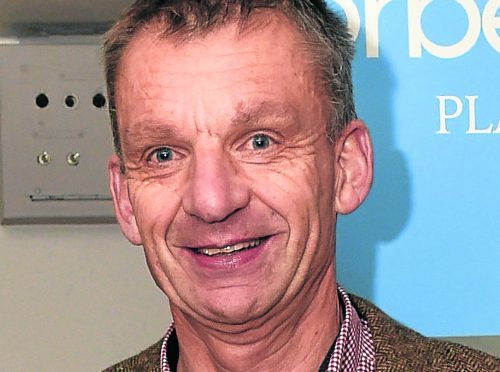 A community stalwart has been urged to publicly apologise over offensive posts on Twitter after quitting two senior posts in the row.
Retired oil worker Eric Simpson was the secretary for Inverurie Community Council and also for Inverurie Events but stood down at the weekend.
His resignation came hours after he found himself at the centre of controversy concerning "repugnant" comments on social media.
Mr Simpson was a volunteer activist for Conservative MP Colin Clark on the campaign trail for the general election earlier this year.
It emerged that offensive posts had appeared on his Twitter account on Friday.
Comments included racist and homophobic references and a foul-mouthed rant about gypsies. One of the posts stated that refugees were "not wanted" in Scotland.
Former Aberdeenshire Lord Provost and current chairman of Inverurie Events, Hamish Vernal, described the comments as "repugnant".
He said: "I don't really think anyone in Inverurie would condone anything that was said. I have spoken to him about it at length and he then e-mailed me his resignation.
"He said he regrets if he has caused any offence, but I think he needs to go one step further than that and apologise and admit he was wrong."
Mr Simpson supervised the start of Inverurie's first- ever Santa run earlier this month and several Syrian refugees, who now live in the community, volunteered at the event.
Mr Vernal said the comments were disappointing, adding: "Especially, given that our Syrians who helped out at the Santa run have been quite heavily involved in the whole community and are trying hard to settle in."
A statement issued from Inverurie Community council's social media page confirmed Mr Simpson's resignation, and stated: "We will meet as soon as possible in the new year to deal with any issues arising from this unfortunate debacle."
Chairman of Inverurie's business improvement district (BID), Ian Sinclair also condemned the posts.
"I must admit I was really shocked when I saw them," he said. "The whole of the board are completely staggered by it."
A Conservative party spokesman last night condemned Mr Simpson's remarks and added: "He is not a member of the Conservative party, therefore we have no avenue to discipline."
Mr Simpson's twitter account @elginloon59 has now been taken down and he could not be reached for comment.