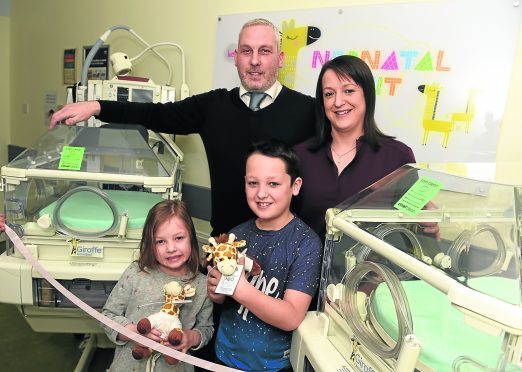 Aberdeen's neonatal unit has received a pair of very important Christmas presents: two specialist incubators which will drastically improve the care of premature and sickly babies.
The new "giraffe" devices, which cost around £48,000 each, are designed to give vulnerable newborns the very best environment for their vital first days.
They come complete with integrated X-ray technology humidity and oxygen controls, and a special light which can provide phototherapy for babies suffering from jaundice.
And mums and dads worried about how their little ones are doing will be able to quickly find out their child's weight, temperature and more from monitoring screens attached to the incubator.
The new devices were donated by Graham and Gillian Wood, who own the Chester Hotel on Queen's Road.
They raised £105,000 to pay for the pair of incubators through a week-long festival of wood and wine at the hotel, which featured Michelin-star chefs and an art exhibition by artist Alexander Millar.
Katie Watters, the head of fundraising for the Friends of the Special Nursery charity which supports the neonatal unit, invited Mr and Mrs Wood to see the technology in action last week.
She said: "It was wonderful to have Gillian and Graham at the unit to see the difference their incredible donation will make to babies, their families and the staff.
"We are so grateful to the Woods, the team at the Chester Hotel and everyone who contributed to the great success of the festival of food and wine.
"We look forward to continuing our partnership with Gillian and Graham and the Chester in 2018."
Mrs Wood said: "We're delighted to support the wonderful work of the staff at the neonatal unit and the Friends of the Special Nursery charity.
"Seeing the incubators in the unit really brings home what the food festival achieved.
"The generosity of our guests, donors, online bidders and our guest chefs Tom Kitchin, Martin Wishart and Brian Grigor was beyond our expectations.
"We are very grateful to everyone who made it such a success."