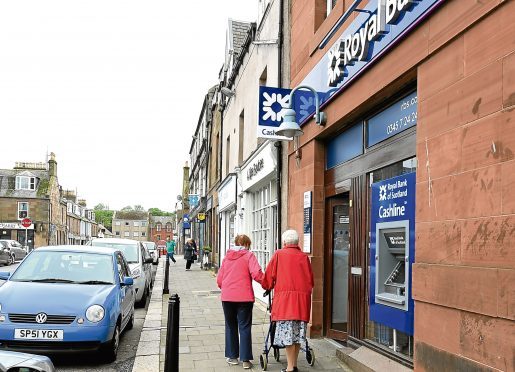 A community has said it feels "left out in the cold" after the closure of their RBS branch earlier this year.
RBS customers in Stonehaven, who have already lost their branch, have had complaints about the inadequate replacement mobile facilities falling on deaf ears.
A twice-weekly replacement mobile banking service has been in operation since October.
But loyal customers have complained they have been left queuing without being served when the mobile bank left after its allotted hour – despite people still waiting.
Stonehaven and District Community Council's Phil Mills-Bishop said the cash machine had also been out of service for a lengthy period and the post office was unable to cope with demand.
Mr Mills-Bishop had requested the mobile bank service time be extended to two hours so all customers could be served and said he has had complaints of the mobile banking van regularly leaving a queue of customers on the street once its allotted time is up.
An RBS spokeswoman responded denying they had left customers unserved and said the hours could not be extended.
She said: "On the pressing matter of the mobile bank stopping for two hours in the run up to Christmas, I have to advise you that this won't be possible.
"The mobile has a fixed timetable ensuring that the maximum numbers of communities are served.
"Whilst the timetable is constantly reviewed in relation to the numbers of customers served, we are not in a position to make a change during this period."
Mr Mills-Bishop said he was incensed by the response.
He said: "We need something human. People are literally been left out in the cold when the mobile banking time is up.
"The current arrangements are totally inadequate, yet Inverurie maintains its branch presence.
"Businesses in Stonehaven have not been well served for cash/coin and the Post Office has not responded as RBS indicated they would.
"The crazy thing is that up to now the mobile bank would not serve anyone in the queue outside after the hour but also RBS threatened to even take this service away or reduce it if the footfall reduces."
Mearns councillor Wendy Agnew, who has seen the impact the recent RBS closure has had on Stonehaven, also does not think mobile banking is the way forward.
The former RBS customer said: "There has been a mobile banking van in the Market Square, but it is ridiculous to expect elderly people to stand and queue up outside a mobile banking van in the middle of the town – they are not looking after their customers.
"And this, after the people bailed them out – it's annoying."