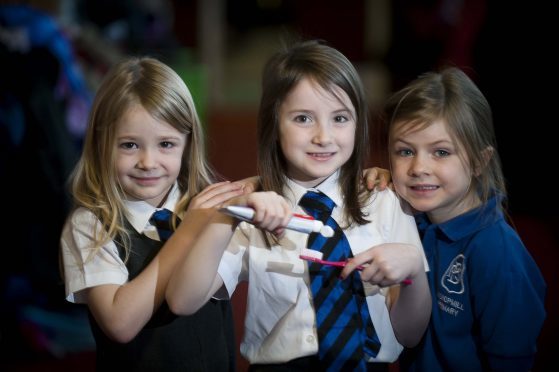 Youngsters in the north-east have been praised for having some of the brightest smiles in Scotland.
Dentists examined the teeth of 2,608 children across Aberdeen, Aberdeenshire and Moray as part of a national survey aimed at tracking rates of decay.
And pupils in the Grampian area bested the average found in Scotland, with a total of 78.8% of children showing "no obvious decay" – compared to 77.1% nationally.
In Aberdeen, 77.9% of youngsters had perfect pearly whites compared to 76.6% of the children inspected in Aberdeenshire.
But the north-east average was boosted considerably by children in Moray, with 85.4% of the youths having no rotten teeth.
Fochabers Lhanbryde councillor, Shona Morrison, is one of three Moray councillors who makes up the area's Integration Joint Board, managing health and social care services, alongside NHS representatives.
She said: "This is a really positive piece of news for north-east, the statistics are incredibly encouraging.
"I think it's due to the proactive work taken up by our dental teams in schools, and also an increased awareness and due care taken by parents to prevent the onset of dental decay by changing diet and improving dental hygiene.
"It is now commonplace for children to have protective coating applied onto the teeth during early years in nursery and school, which also helps reduce the likelihood of decay."
The National Dental Inspection Programme is carried out every year by NHS Scotland and the Scottish Dental group.
The study informs parents and carers of the dental health of their children.
The figures are also used to advise the Scottish Government, NHS boards and other organisations about dental disease at local and national levels.
The 2,608 north-east children surveyed represent 45.8% of the area's P7 population.
For those children found to have rotten teeth, there was an average of 2.19 decayed, missing or filled teeth compared to 2.16 across Scotland.
The report concluded: "The dental health of P7 children in Grampian is much better than observed in the last inspection, in 2015.
"There has been an improvement in terms of children with no obvious decay experience from 73% to 79%.
"This is a fantastic achievement and congratulations to all those involved in making this possible."
A lack of NHS dentists in the north and north-east used to be a real pain for patients.
Throughout the 2000s the shortage of dentists working for the NHS regularly hit the headlines, with a 2002 P&J survey showing just over half of children in Grampian were registered with the NHS.
But Scottish health boards took the problem in hand and more practices began offering treatment on the NHS.