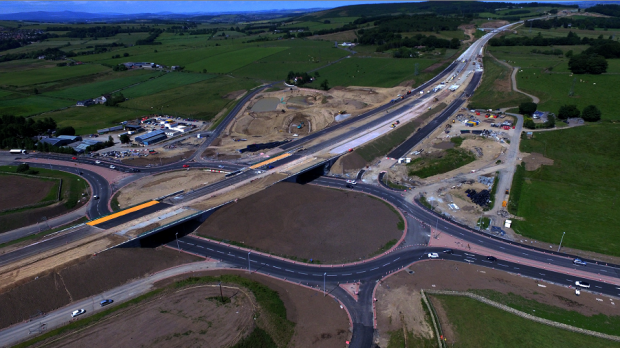 Scotland's transport bosses have hailed 2018 as a "defining year" for the north-east.
The £745million Aberdeen Western Peripheral Route (AWPR) – which is expected to slash journeys across the region – is due to be completed by the spring.
And work on the Haudagain bypass, to relieve the notorious bottleneck, is scheduled to begin once it is finished.
Keith Brown, economy secretary, is the minister responsible for the AWPR project, which began almost three years ago.
In a new year message, he said: "Less than a decade ago, no-one in the north-east could envisage the Aberdeen bypass ever being built.
"One of the most ambitious road infrastructure projects in Scotland, indeed the UK, was stopped at a red light – held up in court while other major projects in Scotland were pressing ahead.
"Fast forward to early 2015 – the legal battle had been fought and won, and Scotland's first minister Nicola Sturgeon turned the first turf to kick start a three quarters of a billion pounds major road infrastructure scheme.
"Not only has the new road delivered thousands of jobs during its construction – it will support 14,000 more for the north-east over the next 30 years – it will also provide £6billion to the local economy over the same period."
The scheme will include almost 37 miles of new dual carriageway, 20 miles of access roads, about 25 miles of side roads and 75 new bridges.
The development has proved controversial due to the impact it has had on roads in the area, with some businesses claiming they have lost thousands of pounds due to nearby route closures.
And there has also been alarm following a spate of accidents on construction sites over the past 12 months.
The Balmedie to Tipperty stretch of the road has yet to be finished, despite an original deadline of spring 2017 after it emerged key earthworks had not been carried out in time for the winter.
Mr Brown added: "Naturally, the work has impacted on traffic in some areas, particularly as we move through to the final stages, where we will connect up the new infrastructure to the existing road network. I would like to thank road users for being patient whilst we deliver this massive investment."