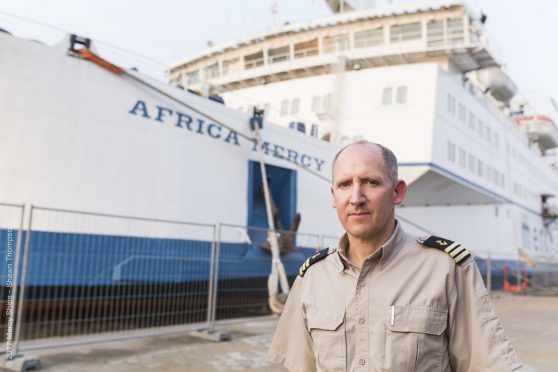 A north-east adventurer has returned home after helping to save lives aboard a "hospital ship" moored off the African coast.
Dean Southall was granted a leave of absence from his job as marine superintendent at Aberdeen firm V.Ships Offshore to help out on the massive Africa Mercy boat.
He spent Christmas and New Year away from his loved ones, as chief officer on the 500ft ship while it was on field service off Cameroon delivering free care to desperate patients.
Doctors aboard the vessel helped the blind to see by performing cataract operations, allowed a seven-year-old boy with "severely bowed legs" to walk for the first time and healed tumours on the faces of children.
And they have seen to thousands of others with the most common complaints – which include dental problems, cleft lips and palates, club feet, childbirth injuries and burns.
Despite the daily struggles associated with the work, Mr Southhall believes the mercy mission is among the most rewarding things he has ever done.
The 51-year-old says his involvement in the project only came about by chance, as he searched the internet for information on "hospital ships" after a colleague mentioned them to him.
The mariner, whose stint ended this week, said he was inspired to get involved when he read about the "life-saving and life-changing" operations the charity performs.
Roughly 70% of people in Sub-Saharan African nations like Togo and Guinea live on less than $2 per day and struggle to take adequate care of themselves.
Mr Southhall said healthcare was "simply not an option" for those people as it does not exist in their areas or is unaffordable.
He said: "In low-income countries, it is estimated that 85% of children need treatment for a surgical condition before the age of 15.
"Lack of treatment or a sometimes simple surgical solution often leads to complications, lifelong disability or death."
The 16,572-tonne Africa Mercy is the largest civilian hospital ship in the world.
It has space for 450 crew, with more than 3,400 people serving on it over the past decade.
The huge vessel was moored at Douala, Cameroon, when Mr Southhall hopped onto the deck at the start of December.
Reflecting on his time there, he described the challenges of maintaining a healthy environment on the stiflingly hot vessel.
He said: "It is not the coolest of climates, and I quickly found out about the very particular needs and difficulties of running such a vessel in such remote and tropical location.
"To keep a climate controlled, clean and well supplied hospital, and care for all those on board, is no mean feat."
The daring venture is not the first of its kind that Mr Southhall has undertaken.
In May, 2015, he and two brothers-in-law set off on a UK rescue mission to help traumatised workers in a Nepalese clothing factory in the midst of the Kathmandu earthquake.
However, the harrowing experience convinced him of the value of volunteering, and Mr Southhall has nothing but praise for the selfless shipmates he shared the Africa Mercy with.
He added: "Fortunately, every single individual of the hundreds working there was highly dedicated to their work. "It is encouraging and humbling to see how everyone worked together, as a community, towards the same goal. "Life on board could not be more rewarding, and this family-oriented atmosphere seems sometimes like it must be the friendliest place on Earth."
What is a mercy ship chief?
Mercy ship chiefs liase with world leaders to identify the areas where their help is most badly needed.
They then establish a medical programme and plan out the mission in detail.
Last year, nearly 19,000 eye patients were screened and 1,240 opthalmic surgeries were performed.
More than 1,200 other surgeries were carried out, including orthopedic, maxiofacial, head and neck, reconstructive plastic, general, and women's health.
And more than 16,000 dental procedures took place on the floating facility.
A mother in the West-African nation of Benin has spoken out about how the charity "answered her prayers" for her children.
The woman, named only as Amina, had three children with cataract blindness – which the family could not afford to have treated.
The youngsters could not play with friends, and held hands wherever they walked together to help guide one another.
Amina prayed for the children to be healed for seven years before learning of the mercy ship and arranging the surgery that allows the children to now spot birds in the sky and to attend school.
The Mercy Ships charity, which Africa Mercy is part of, was founded in 1978 with the aim of "eradicating the diseases of poverty, and effectively doing itself out of a job".
The organisation has directly helped more than 2.5 million people, and has trained more than 40,000 local healthcare professionals, in its 40 years.
Volunteers also work closely with impoverished nations to improve the way healthcare is delivered across the country, by training local medical staff, and renovating hospitals and clinics.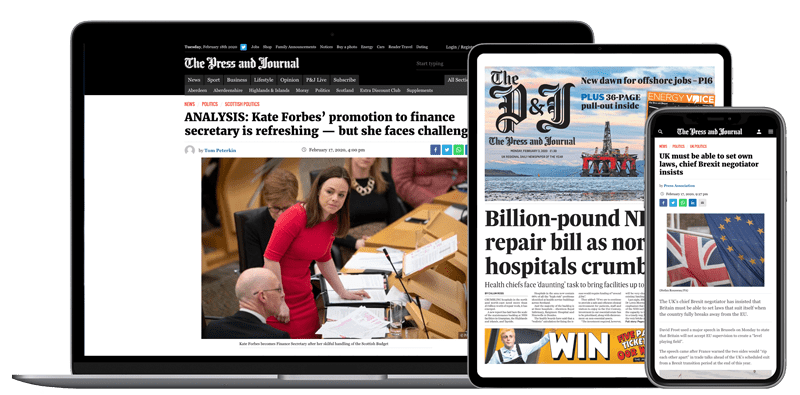 Help support quality local journalism … become a digital subscriber to The Press and Journal
For as little as £5.99 a month you can access all of our content, including Premium articles.
Subscribe