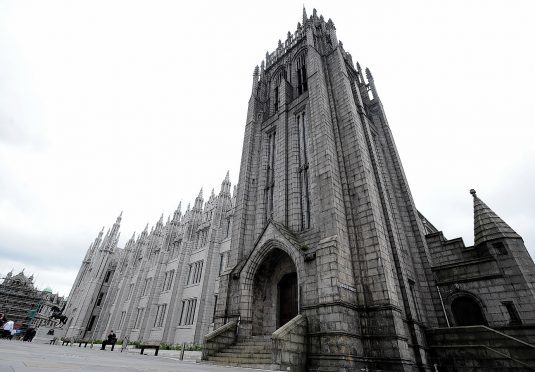 Plans to finally tackle years of accumulated grime from the front of an historic city centre church have taken a step forward.
Greyfriars Church on Broad Street has lain empty since 2011, but last year planning permission was granted to hospitality giant G1, allowing the company to transform the A-listed building into a high-end bar and restaurant.
In addition to overhauling the interior of the Gothic-style property to make it suitable for revellers and diners, the developers have also put forward an application to carry out a deep clean of its blackened granite facade, revealing the gleaming white stone beneath.
When Aberdeen City Council moved its administrative headquarters from St Nicholas House to Marischal College in 2011, the entire building was overhauled, and its frontage was carefully washed from top to bottom.
However, because the adjoining granite of Greyfriars – formerly known as Greyfriars John Knox Church – was not technically part of Marischal College, it has been left coated in muck for the past seven years.
A statement from TCD Architects, who have drawn up the plans in a new planning application for G1, said: "The current building, known as Greyfriars John Knox Church, has been designed in a Gothic revival style similar to Marischal College, featuring a square tower to the west which is embellished with sculptured stones and attached to the Marsichal College facade.
"Externally, the building will remain principally unaltered, especially when viewing the building from the main thoroughfares around the site.
"The granite will be cleaned to the same standard as has been achieved at Marischal College."
As well as eating and drinking facilities, G1 is also proposing to create a viewing area within the tower of Greyfriars, allowing for views across Broad Street, Marischal College, Marischal Square and the rest of the city skyline.
The new planning application also includes a new wheelchair access lift at the southern part of the tower.
Dustin Macdonald, the chairman of Aberdeen City Centre Community Council, said he was pleased plans are moving forward to bring the church in line with its neighbours.
He added: "It should have been done long ago along with Marischal College, so I'm glad to see it finally being cleaned and I'm looking forward to seeing it shining."