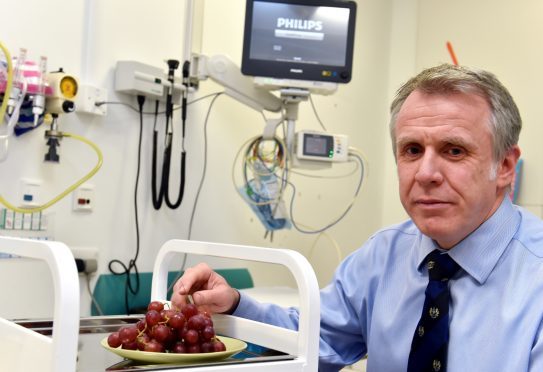 Health bosses have issued a fresh appeal to parents to be aware of the potential fatal consequences of their child choking on small bits of fruit.
Despite regular warnings, staff at the Royal Aberdeen Children's Hospital (Rach) say there are still cases of children's lives being endangered or lost.
In 2012, Louis Emaho tragically died after choking on a grape while at the Newtonhill Out of School Club.
Now the health board has now released a video to highlight the dangers and the simple steps that can be followed to dramatically reduce the risk of choking.
Dr Jamie Cooper, consultant in the emergency department at the hospital, said: "We live in a society which really cherishes our children which is great.
"But I've been seeing quite a lot of cases involving fatal consequences from choking on foodstuffs and this is in kids who are well with no medical problems.
"It seemed to come from foods that posed a particular choking hazard that people weren't aware of, which had they been prepared in a slightly different way the risk would be lessened greatly.
Dr Cooper said that parents may be more careful when it comes to sweets and nuts but because fruits like grapes and cherry tomatoes are healthy, the hazards they pose are sometimes ignored.
Soft and spherical fruits can sit on top of the airway of a small child, which is about the same size as a straw, and forms a plug which makes it very difficult to move with the usual first aid methods.
Soft fruit and vegetables should be cut lengthwise and then quartered and harder items like carrots should be steamed first to make them safer and then cut into small chunks.
He added: "The important thing to do if someone does find themselves in that situation is not to panic, it's difficult not to but it's not what's needed.
"If the child is able to cough try and encoruage them to because it will create a bigger area for them to breathe than you can externally.
"If they're struggling to cough then if they're little enough get them out of their chair and put them on your arm or knee and apply five really strong back slaps to them and try and dislodge the food forwards."
Older children should either be given the Heimlich Maneuver or chest compressions.