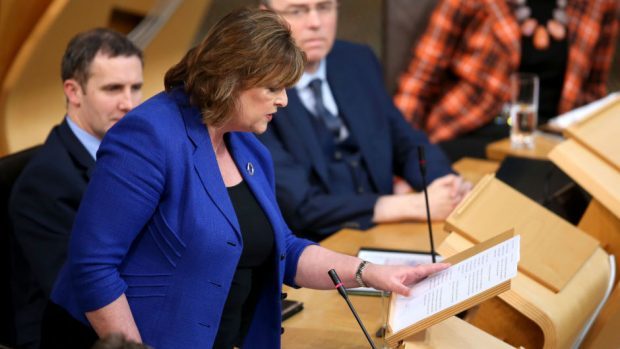 A Scottish Government minister has raised funding hopes for Aberdeen International Youth Festival – and condemned an "inappropriate attack" on its organisers by an MSP.
Culture Secretary Fiona Hyslop described the withdrawal of city council funding from the event as "incredibly disappointing" but revealed her officials stood ready to help secure alternative support.
And the SNP minister criticised Conservative MSP and councillor Tom Mason after he said the festival had suffered from "lacklustre management" and "inadequate" forward planning.
The exchange happened in Holyrood after the "huge negative implications" of the council decision were raised by Aberdeenshire East MSP Gillian Martin.
Ms Hyslop said: "That outcome is incredibly disappointing, although I hope that it provides an opportunity for the organisers to pursue other options and find a new way forward for the festival in 2018, which is Scotland's year of young people.
"My officials stand ready to offer advice on alternative sources of funding and to help facilitate networking or new connections to support the festival, if approached."
North-east MSP Mr Mason said he was "party to the decision" in his role as a councillor, and added: "In recent years, the festival has experienced declining audiences and a lack of participation, along with lacklustre management and a governance structure that left much to be desired.
"I am very supportive of the general principles of the arts festival, so the most disappointing thing for me was that the forward plan was inadequate to address the matters that should concern the festival."
The minister responded that it was "inappropriate for any member to attack the management of local volunteers and those involved in trying to deliver festivals throughout our country".
Speaking afterwards, Ms Martin said she was "appalled" by Mr Mason's remarks, and added: "The cabinet secretary has rightly agreed that officials will support the Aberdeen International Youth Festival as it looks for alternative funding measures to plug the gap left by Aberdeen City Council.
"The events put together have attracted thousands of people to the north-east and have been going since 1973 bringing a diverse and vibrant culture to Aberdeen and Aberdeenshire inspiring generations of young people."
But last night Mr Mason insisted he remained "very supportive of the general principles of the festival", but did not believe the existing business plan was sustainable.
He added: "To that end, I am happy to meet with the festival organisers to help develop the plan."
Festival chief executive Stewart Aitken said: "I thank very much Fiona Hyslop for that support and I'd been very keen to have a conversation with her officials about opportunities for funding and support."
He added: "I'm always sorry when people take the youth festival to task or feel we're not delivering. I'm more than happy to have a conversation with Mr Mason about his concerns or have him come along to the festival."