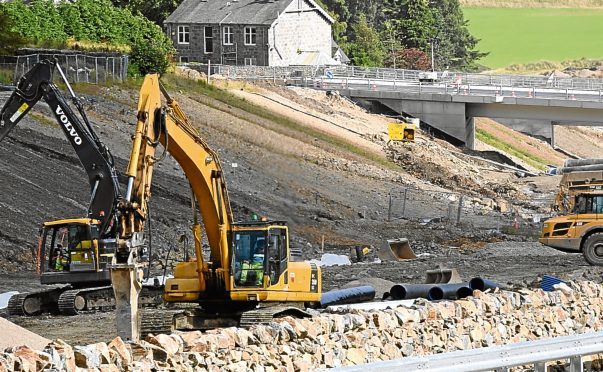 The lead consortium partner on the £745million AWPR is to go into liquidation, threatening thousands of jobs.
Carillion is working with Balfour Beatty and Morrison Construction under the Aberdeen Roads Limited banner on the major infrastructure project.
The firm said it has "no choice but to take steps to enter into compulsory liquidation with immediate effect" after talks failed to find another way to deal with the company's debts.
But Scottish transport bosses have insisted that the Aberdeen bypass will still go ahead despite Carillion's collapse.
The stricken company, which employs 20,000 workers across Britain, said crunch talks over the weekend aimed at driving down debt and shoring up its balance sheet had failed to result in the "short-term financial support" it needed to continue trading while a deal was reached.
Carillion, which has been struggling under £900 million of debt and a £590 million pension deficit, has seen its shares price plunge more than 70% in the past six months after making a string of profit warnings and breaching its financial covenants.
Its collapse poses questions as to why the group continued to receive Government contracts despite issuing a number of profit warnings.
The Government has urged staff to continue coming into work and said "those already receiving their pensions will continue to receive payment".
Britain's second biggest construction firm is understood to have public sector or public/private partnership contracts worth £1.7 billion, including providing school dinners, cleaning and catering at NHS hospitals, construction work on rail projects such as HS2 and maintaining 50,000 Army base homes for the Ministry of Defence.
Carillion chairman Philip Green said: "This is a very sad day for Carillion, for our colleagues, suppliers and customers that we have been proud to serve over many years.
"Over recent months huge efforts have been made to restructure Carillion to deliver its sustainable future and the board is very grateful for the huge efforts made by Keith Cochrane, our executive team and many others who have worked tirelessly over this period.
"In recent days, however, we have been unable to secure the funding to support our business plan and it is therefore with the deepest regret that we have arrived at this decision."
Carillion had met lenders HSBC, Barclays, Santander and Royal Bank of Scotland on Wednesday to discuss options for reducing debts, recapitalise or restructure the group's balance sheet.
Last night, transport bosses insisted that even if the firm were to collapse, the delivery of the long-awaited Aberdeen bypass will not be affected as the other project partners have agreed to step in.
Transport Scotland has said that the future of the bypass is not in doubt, regardless of Carillion's financial state, due to the partnership approach of Aberdeen Roads Limited.
The organisation also confirmed that work on the 36-mile route is still expected to be completed this spring.
A spokesman said: "We expect that any impact on the AWPR will be mitigated by the fact that the Carillion's construction partners are joint and severally liable and as such, the other two construction partners remain fully responsible for the completion of the works.
"Aberdeen Roads Limited, the construction joint venture for the project, confirmed that they remain committed to the delivery of this project."