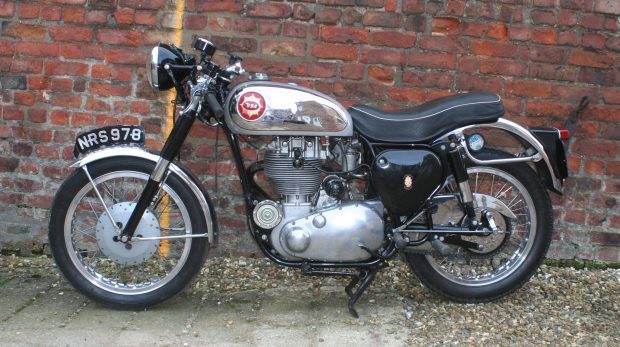 Residents are being asked to piece together the past of a vintage motorbike – which was the only one of its kind to be sold in Aberdeen – before it sells at auction.
The BSA Gold Star in question is expected to fetch up to £20,000 when it goes under the hammer, and the auctioneer has appealed for help in finding out its history.
The NRS 978 registered motorcycle was the only 500cc machine to be sold in the north-east when it was offloaded by dealers George Cheyne of 147-149 Holburn Street in 1959.
But its origins stretch back almost two decades earlier, when a specially prepared Empire Star 500 ridden by the legendary motorcycle racer Wal Handley in 1937 was awarded the "gold star" accolade – which gave BSA's new model its name.
That model went on to become "possibly the most successful production racing motorcycle ever" during the post-war years, and subsequent designs varied little until the company's demise in 1963.
Andrew Spicer, saleroom manager at the Dee, Atkinson and Harrison firm in East Yorkshire, has already researched some of the history of the NRS 978 but has no information on its first few years.
He said: "The motorcycle we have was dispatched to Aberdeen on October 30, 1959.
"Nothing is known of its early life but it was then owned by a Mr Evans of Bristol in January 1965, followed by Mr Exon in 1966.
"In 1983 it had moved to Cheltenham with a Joseph McCaig, in 1989 it was in the stock of Saddleworth Classic Motorcycles after being purchased for £6,000."
Mr Spicer is hopeful that Press and Journal readers may be able to enlighten him on the BSA Gold Star's early days, and he can be contacted on 01377 253151.
The auction is to held at Sledmere House, Driffield on Saturday, March 3.