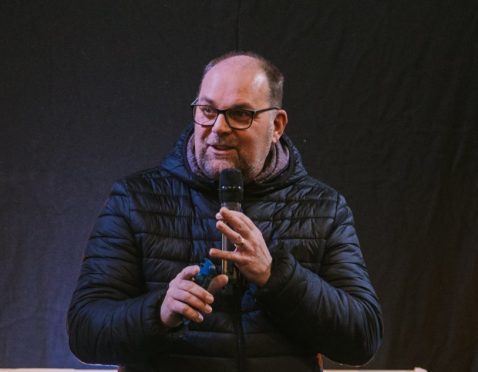 During the Christmas period, Pastor Iain Duthie encouraged his congregation to give the gift of health and hope to new mums and their babies in Ethiopia by donating at their popular carol concerts.
King's Community Church backed a Compassion UK Child Survival intervention programme in Addis Ababa which looks after 15 vulnerable mums and babies in the community.
And now, in order for the programme to operate for the whole of this year, the church has donated £10,884, with a significant part of the money being raised from events staged at Aberdeen's Beach Ballroom.
A total of £4,700 was amassed at the events, with the money being split between Compassion and local cancer charity, Friends of Anchor.
The Aberdeen church matched the contribution, meaning the charity will receive £4,700 for Christmas gifts for patients and staff.
And, as part of KCC's ongoing partnering with Compassion, the church has contributed the remaining, additional money to give £10,884 to the charity to pay for the child survival intervention unit.
This initiative provides pre and post-natal care, immunisations, baby essentials and vocational skills training and ensures a medical professional is present at the baby's birth.
The project in Ethiopia is being run in conjunction with Compassion's world-leading child sponsorship programme, which supports over 1.8 million children in 25 countries around the globe.
Mr Duthie said: "After being invited to Ethiopia by Compassion to visit projects, which included a child survival programme, we were inspired by the work which was being done by the organisation to give the best possible start in life to those who are most vulnerable.
"Seeing the impact it made on the mothers was quite moving and highlighted how fortunate we are to have the medical care and work opportunities we do here in the UK."
Working in partnership with local churches, Compassion seeks out the most vulnerable children, and, with the support of individual sponsors, provides them with the means to break the cycle of poverty and create a viable future.
Just £25 a month enables one child to be part of a local Compassion project where they receive nutritious meals, emotional support, medical attention and the chance to get a good quality education.
Sponsors can also build a friendship with the children they sponsor through letter writing.
King's Community Church is situated on King Street in Aberdeen city centre and holds three services every Sunday. Its congregation of around 1,000 people has supported Compassion for over nine years.
Their fundraising efforts have supported the building of two toilet blocks and a classroom in Ethiopia and 154 children are currently being sponsored by members of the congregation.
Mr Duthie added: "Our partnership with Compassion is a very positive and meaningful way for the people of King's Community Church to make a difference in the lives of others.
"It is helping us to take the message of hope and the love of Jesus to the ends of the earth."