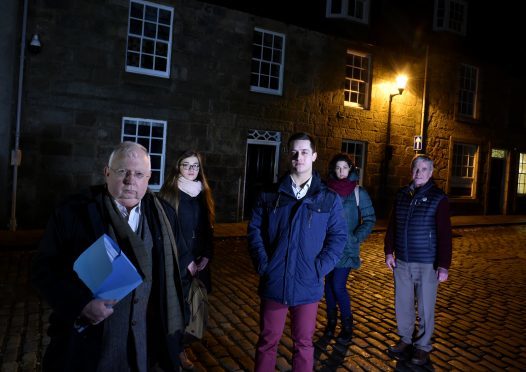 Students are campaigning against plans to convert a historic B-listed building into a bar near their university.
Entrepreneur Juliusz Matraszek, who studies management at Aberdeen University, hopes to open up a pub at 15 High Street, close to the King's College building.
The planning application has prompted hundreds of letters both supporting and objecting to the proposals.
Mr Matraszek has argued there is huge demand for a pub on campus, however a number of students have voiced concerns.
Jacub Cudak, who is in his fourth year of studying economics at the university, frequently visits the chaplaincy next door to the proposed Ivy bar.
Mr Cudak, alongside fellow students Maja Skretowska and Maria Manicone, fear noise from the bar could impact on the pastoral and emotional support the chaplaincy provides to academics.
They have joined the Old Aberdeen Heritage Society, Old Aberdeen Community Council and Channory resident Professor Claude Wischik in their campaign against the application.
Mr Cudak, who has written a letter of objection, said: "It's not the right place.
"I have friends in my flat who are both in support and against it, but those who support it just want to have a bar somewhere near, and those against it, even people who do not use the chaplaincy, really feel it wouldn't be a good place for such a business.
"I've been joining the activities of the chaplaincy over the last four years, and it really feels wrong to have people drinking every day next to a place where mass takes place daily.
"It's a place of refuge for people who go through difficult times in their lives, and this would really be disturbed by a pub.
"The students in support do not give any deeper thought to it. They are enthusiastic about having a pub on the campus, and don't think of the consequences."
Mr Matraszek argued it would be wrong to assume students drinking in the pub would become a nuisance.
He said: "The University of Aberdeen campus must be allowed to adapt to modern day standards, and we can take this step now.
"I fear for the path Old Aberdeen is heading towards, and believe that concerns of it becoming an empty museum are very much on point.
"Let the Ivy bar become a benchmark of high standards and acceptable behaviour."