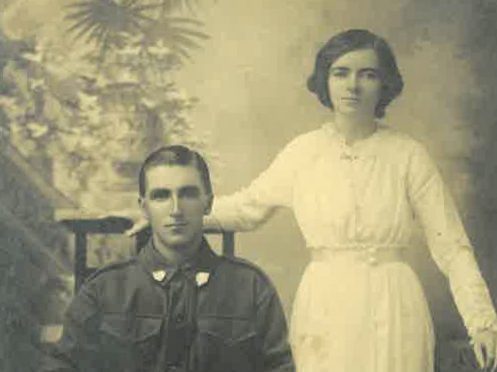 It was the war to end all wars, or so it was described at the time.
And even now, 100 years after the end of the fighting in the trenches in France and Belgium and battlefields across the world, the First World War continues to resonate with families across Scotland.
Richard Taylor, who was born and brought up in the north east and educated at Robert Gordon's College and Aberdeen University, spoke to the Press and Journal this week about the wartime tragedies which befell his family.
His grandfather's brother, William Taylor, was born in Aberdeen in 1892, the third son – in a family of nine sons and three daughters – to John and Jessie Taylor, who lived in Springbank Street.
While the others stayed close to their roots, William, still a teenager, decided to go seek his fortune abroad and emigrated to the goldfields of Western Australia.
Yet, although he was thousands of miles from his homeland, there was no escaping the conflict which erupted in 1914 – and cast a heavy shadow over millions throughout the globe.
As Richard Taylor said: "In 1915, William signed up with the Australian Imperial Force, as one of the thousands who answered the call to fight.
"However, he had also met the love of his life, a young Australian lass 'Janie with the sparkling blue eyes' and, on January 26, 1916 – Australia Day – he married Jane Palmet Payne in Northam, West Australia.
"Their story, while not unique, is one filled with poignancy. William went to war in April 1916, just two months after the couple's wedding and he never saw his wife again – he was killed in action in September, 1917.
"His body was never recovered and there is no known grave. But he remembered with honour at the Menin Gate in Ypres in Belgium.
"Meanwhile, after being widowed at just 23, and married for only a few months, Jane never remarried and died, aged 86, in Victoria."
Back in Aberdeen, six of the Taylor brothers went to war. William died in 1917 and his brother Alick perished in action in April, 1918. Their mother, Jessie, died of a heart attack in September of the same year, aged 53.
But, amidst the hellish losses, there were also friendships forged and acts of camaraderie between youngsters who had been flung together.
William Taylor, for instance, met up with ex-pat Australian, James Ross Duperouzel, after they joined up and they sailed to Europe together on HMAT Ulysses in April, 1916.
The 19-year-old Jim was killed at Mousquet Farm in August, but William, who was wounded during the same hostilities, subsequently wrote a short and moving poem in memory of his late confrere.
It read: "In Northern France, mid the carnage, Where the shrapnel freely flew, He fought side by side with his comrades, Who stood fast with the red, white and blue.
"But in memory, dear comrade, you're with me today, Though on earth we shall not meet again, You've gone to that Home that is open to all, Where you will never know sorrow or pain."
The obituary was published in the West Australian newspaper – and has been reproduced in a book written by UK resident, William Duperouzel, dedicated to the memory of his uncle.
William Taylor, despite recovering from his injuries, was not to be spared in the subsequent hostilities. After rejoining his unit, he was killed, aged 25, in September, 2017, at Ypres.
But, although his family grieved, they derived some comfort from the knowledge their son had formed a close bond with young Jim, one which has not been broken in death.
As Richard Taylor stated: "The sacrifice of so many in the Great War was a tragedy – all those young lives cut short and so much unfulfilled potential.
"But, all these years later, it has brought together different families from all across the world.
"William Duperouzel, who has written a detailed account of his uncle's wartime experience, was surprised to be told about an In Memoriam notice which I placed in the Press and Journal to commemorate the centenary of William Taylor's death.
"We have now had several phone conversations and it is both humbling and wonderful to hear about the shared details of what happened to the two young men a century ago and to know my uncle had a good friend before he died.
"Wiliam Taylor was sorely missed, not only by Janie, but by all his family back in Scotland."
As the centenary draws near of Armistice Day, many others will have their own reminiscences of the sacrifices made by a lost generation.
Now, as then, in the case of the Taylor family, some of whom are still in Aberdeen and Dundee, while others have moved to Australia, the recollection of courage and camaraderie straddles continents.