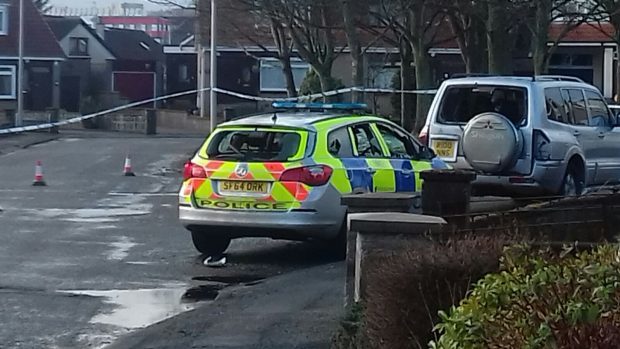 Police are trying to trace a car linked to an earlier break-in which suffered significant collision damage and was driving erratically in Dyce today.
Officers are looking for a red VW Golf which has no rear number plates.
A police cordon is in place at Glenholme Gardens in Dyce, where one police car has had its side windows smashed.
The break-in occurred in Denmore Road in the Murcur industrial estate in Bridge of Don sometime between 4.30am and 6.30am today.
A Mitsubishi Shogun which is thought to be linked to the incident was recovered in Glenholme Gardens in Dyce at 6.30am today.
Detective inspector David Howieson said: "Officers were called to a report of an abandoned vehicle in Dyce earlier today.
"We believe this vehicle may have been used in the break in to a commercial premises on Denmore Road in Bridge of Don earlier.
"A second vehicle, the red VW golf, was seen by police in the Glenholme Gardens area but left the area and we subsequently received several calls from members of the public reporting a red VW golf driving erratically in and around Aberdeen. We believe the occupants of the VW Golf may be able to assist us with our inquiries into the break-in at Denmore Road.
"I can also confirm that a marked police car that initially attended Glenholme Gardens was damaged in a disturbance which involved two officers. The two officers were not injured during the disturbance."
"We are asking the public to help by calling us if they saw or have seen the VW Golf today.
"Due to the nature in which it was being driven and reports from the public we know it has collision damage and at the time of the incident had no rear number plates.
"We are also appealing to the public for any information about the break in at Denmore Road. We now understand that the Mitsubishi Shogun was stolen from the Charlotte Street area of Peterhead at around 4.30am this morning."
"If anyone recalls seeing this vehicle or has dashcam footage of it being driven from Peterhead to Bridge of Don or from Bridge of Don to Dyce to get in touch. Also, if anyone noticed anything unusual in the Denmore Road area in the early hours of this morning I would ask they get in touch as well."
Glenholme Gardens remains partially closed but officers expect to reopen it fully later today.