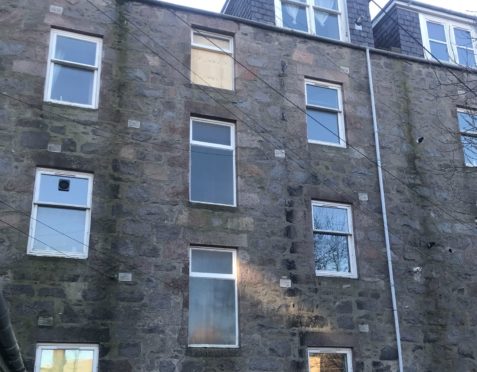 A father-of-four is lying in intensive care with severe injuries after plummeting four storeys from a council flat window.
It is feared that Shaun Edgar may be left paralysed after his fall from the property in Nellfield Place on Friday evening.
The 36-year-old was rushed into emergency surgery at Aberdeen Royal Infirmary with a ruptured aorta and broken ribs.
Almost one week after the incident, Mr Edgar is still lying in the hospital's intensive care unit.
Unable to speak to his family, the events which led to his plunge remain a mystery, but it is thought he was either leaning on the window, or tripped and fell into it when he fell.
His father Michael believes, regardless of the circumstances, that the window was unsafe.
He said: "We don't know what happened but the whole pane of glass came right out of the frame.
"The window ledge is only 10 inches from the ground so it wasn't even waist height and there was no barrier.
"Windows shouldn't be falling out of their frames."
After the incident, the Edgar family took photos of the scene, showing the near-intact pane of glass, with safety mesh threaded through it and sealant on its edges, lying on the ground.
Another picture shows the dent left in the grass where he landed in the property's back garden, just inches away from a hard, stone path.
"I think if he had hit the concrete he wouldn't be here," his father added.
The family has also raised concerns that others could have been in danger.
"How many other people are living in that building?," Mr Edgar added.
"Or if Shaun had been going down the stairs holding one of his young kids, she could have gone through it as well.
"It just beggars belief."
He added: "My whole family are just devastated, but we are all rooting for our son.
"I think it's horrendous that a man should be lying in hospital because of something like this.
"It's unbelievable."
A Police Scotland spokeswoman confirmed that officers attended the scene following the incident on Friday evening, but found no evidence of criminality and are treating the incident as an accident.
An Aberdeen City Council spokeswoman confirmed that the incident had prompted safety checks to be conducted within the property.
She said: "Police called Aberdeen City Council to attend to repair the window after an incident.
"We have been in contact with the family and checks have been carried out in the building and no further repairs were identified."