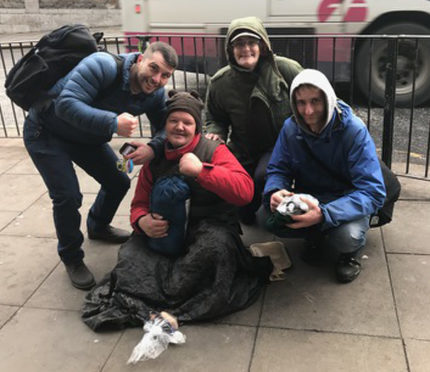 Champion boxer Lee McAllister has joined a campaign to fight for more help for homeless veterans living on the street.
The Aberdeen Assassin was yesterday handing out care packages containing sleeping bags, hats and toiletries to people sleeping rough in the city.
He teamed up with volunteers from the Soldiers Off the Street charity, an organisation set up to provide assistance to ex-military personnel experiencing difficulties.
The charity said many veterans were not sure who to turn to if they were suffering from post-traumatic stress disorder (PTSD) or were becoming increasingly reliant on drugs or alcohol.
The organisation offers both immediate help to those on the street and longer-term support by covering housing costs.
Their work yesterday marked the start of a major drive to help former personnel in the north-east ahead of the opening of a new fundraising shop in Fraserburgh next week.
Mr McAllister, who has now been named a patron of the charity, said: "These people have been out fighting for their country – and for their kids and grandkids.
"But they come back and they are so regimented they don't ask for help.
"They can't go and fight for us if we don't fight for them at home."
He added: "If you come out of jail you have access to social work and other help, and they should have that if they come out of the army.
"I thought there would have been things in place to get them back into society. It's embarrassing."
Veteran Joyce MacMillan, a fundraiser and support worker leading the charge with SOTS in the north-east, was a nursing stewardess in the Queen Alexandra's Royal Army Nursing Corps.
Since leaving the military, she has been homeless twice, once in London where she spent nights sleeping in Hyde Park, and on another occasion in the north-east.
She said: "We're trying to raise awareness and let everyone know how our ex-soldiers are treated – as it's not very well.
"We are trying to help. If they're unemployed we will pay their deposit and first month's rent in a place to live.
"It's going to be very hard work but it's important we help these veterans."