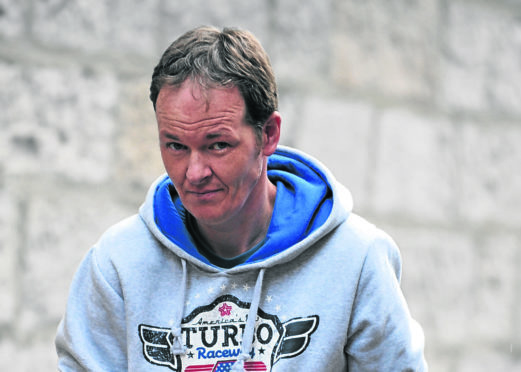 A bungling sex-pest vandal who scrawled explicit messages around Aberdeen's beach area was caught by cops – after he included his own phone number.
Victor Rae posted invitations for women to have sex with him on a seafront shelter and in an underpass.
Some of the least-crude graffiti advertised him as a "single man" who was seeking "gorgeous women" keen to "hook up".
But detectives had little trouble finding the culprit – who was already on the sex offenders register for previous offences – thanks to him including his contact details.
At Aberdeen Sheriff Court yesterday, Rae admitted causing more than £200 worth of damage.
Procurator Fiscal Kelly Mitchell told the court that a city council employee had spotted some of Rae's graffiti on a shelter on November 7.
He did not initially tell the police due to the high volume of vandalism he deals with on a daily basis.
However a few days later, police received a report of a large number of sexual messages written or scratched onto the walls of a nearby underpass.
And on November 17, police showed the writing in the underpass to the council employee who had first noticed the vandalism.
He agreed they appeared to have been created by the same individual, and revealed it cost £75 to clean the shelter, with an additional cost of £150 to power wash the underpass.
Rae, who wrote the messages over a period of weeks in October and November, was detained on November 23.
Representing Rae, defence agent Mike Monroe said: "The telephone number of course was a number which was traced to him.
"This was disastrous for him from start to finish, and he accepts full responsibility."
Sheriff Philip Mann said: "Because of your record, this is a serious matter, and will be dealt with in an appropriate way."
Sentencing was deferred to a later date to allow for a criminal justice social work report.