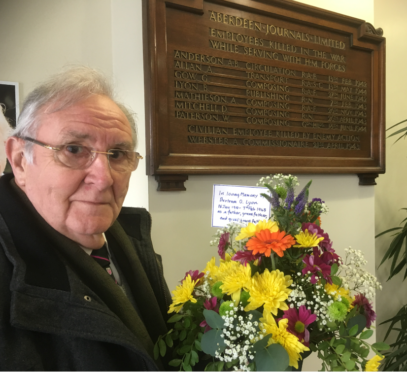 A north pensioner has paid a poignant tribute to the father he never knew on the 75th anniversary of his death in World War II.
Aberdeen man Bertram Lyon died aged 33 when the Royal Navy ship he was on was torpedoed by an Italian submarine off the coast of Algiers on February 7, 1943.
Mr Lyon worked as a dispatch clerk with the Press and Journal at the time of his death, and his name is preserved on a plaque in the newspaper's Lang Stracht offices – along with those of six other employees killed in the conflict.
His son, Andrew Lyon, was only 15 months old when his father died but is determined to keep his memory alive.
Mr Lyon travelled from his home in Inverness to Aberdeen to lay flowers beside the plaque.
The 76-year-old was raised in the city and worked as a reverend in Fraserburgh for 30 years before retiring to the Highland capital.
And, as a youngster, he was there when the plaque bearing his dad's name was first unveiled at Aberdeen Journals' old premises on Broad Street seven decades ago.
Mr Lyon said: "I still remember it being unveiled during a special dedication ceremony, to which relatives of the deceased were invited.
"I have this memory of there being being a crowd of people, while I was with my mother.
"As I grew up I realised that other friends had their dads at home and I didn't, and I often liked to think that there had been some mix-up and he would show up at the door.
"I have always tried to keep a connection between the two of us, and I travelled through from Fraserburgh to leave flowers at the plaque on the 50th anniversary of my father's death in 1993."
That bond was strengthened during Mr Lyon's formative years when a colleague of his departed father's secured him a Saturday job phoning in cricket scores to the Journals.
Mr Lyon and his wife, Sheena, moved to Inverness to be nearer to their family following his retirement.
Mrs Lyon carefully arranged the colourful bouquet that was placed at the memorial.
Bertram's history
Bertram Lyon was born in 1910, and attended Aberdeen Grammar School before finding work with the P&J's publishing department.
He met his wife, Janet, at the Beach Ballroom and they wed in November 1940, with Andrew arriving the following November.
His passions included dancing and cricket, and he donned the whites for the Journals team in the early 1940s.
Shortly after the birth of his son, Mr Lyon was called up to serve in the Royal Navy on a minesweeper named the HMT Tervani.
The ship was on patrol between Cape Carbon and Cape Bougaroni when it was struck at 11pm on February 7, 1943, and the 33-year-old seaman was killed alongside 22 others.
On February 27, 1943, the Press and Journal reported that the 33-year-old was "missing, presumed killed".
The notice made mention of the wife and 15-month-old son he left behind at the Fonthill Road property they shared.
The Italian submarine responsible, Acciaio, was torpedoed by the British submarine Unruly that July.