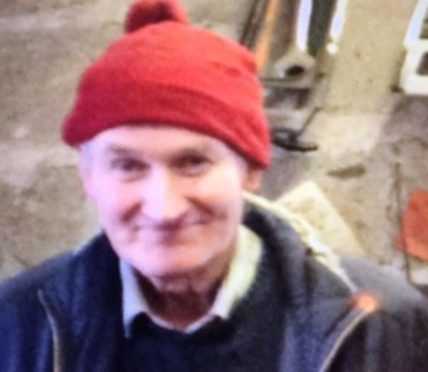 A mechanic found dead in his home had "tens of thousands" of pounds hidden in biscuit tins in his cottage, a court has heard.
Brian McKandie was discovered at his home in Badenscoth, a few miles north of Rothienorman, on March 12, 2016.
Steven Sidebottom, 24, is on trial the High Court in Aberdeen accused of murdering the pensioner by hitting him with a blunt weapon, seizing hold of his body, dragging him and robbing him the day before. He denies the charge.
Yesterday, the jury was shown grisly images of the scene and heard that firefighters had to smash through a window to help police into the living room as Mr McKandie's body was slumped against the door.
The court heard a patch of blood was also spotted in the garden, next to some snowdrops.
Mr McKandie, 67, was discovered surrounded in blood, with some of the white flowers by his hand – which was in a fist.
But the court heard that the handyman's death was initially "treated as an accident", and later became a murder inquiry following a post-mortem.
Scene examiner Julie Goodeve said: "The assumption was that he had come by an accident outside, and had gone into the house to get help."
She told defence counsel Ian Duguid the scene was not forensically protected on March 12, and all the emergency services that originally attended had to provide elimination DNA samples at a later date.
And the court heard that during the murder investigation, sweetie tins filled with bank notes were discovered hidden around a bedroom in Mr McKandie's home.
The jury was shown images of tightly-packed bundles of bank notes "stuffed" into Quality Street and Toblerone tins.
Police scene examiner John Dingwall, who has about 30 years of experience, who was called to the cottage after three containers full of cash were found hidden in a bedroom.
He said: "Officers had come across three biscuit tins during their investigation.
"When they were opened, they revealed bundles of bank notes, mostly £20 notes in elastic bands.
"That was the first of three tins, and then there was a further search of the wardrobe and the bedroom."
Mr Dingwall told the court that an additional three tins were discovered, as well as even more "wads" of cash stashed down the back of a wardrobe, inside a bed and hidden underneath books in a bedside cabinet.
When advocate depute Iain McSporran QC asked Mr Dingwall if "it would be fair to say there was tens of thousands of pounds", he agreed.
Two of the pensioner's former customers, Ian Cruickshank and Mark Jordan, told the court Mr McKandie only took cash for his services, and recalled that on occasion he would mention the bank notes would be "put in a shoebox".
And when he was asked if he spoke about putting cash in a shoebox in front of others, Mr Cruickshank said he was not sure.
When Mr McKandie's older brother William took to the stand, he described his brother as "very frugal" and not a "big spender."
The trial, before Lord Arthurson, continues.