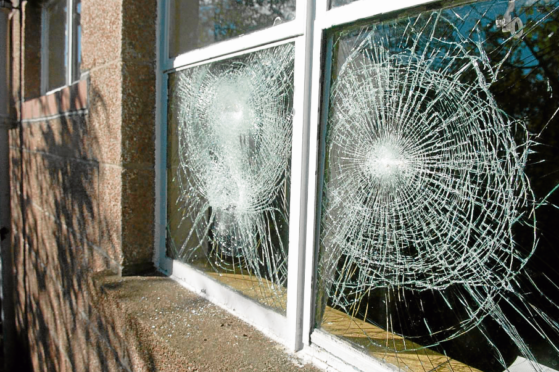 Vandals have struck nearly 1,500 times at schools across Aberdeen over the last four years.
Paint-smeared windows, burned toilet seats and damaged playground equipment – once with a power saw – are just some of the things staff have arrived at school to find.
Education chiefs have reported 1,435 counts of deliberate damage in primary and secondary schools over the last four years – the equivalent of almost one per day.
Cornhill Primary and Northfield Academy have been the most-frequently targeted, with Aberdeen Grammar ranking third.
The city council was last night urged to take a more proactive stance in tackling vandalism.
Between 2014 and 2017 there were a total of 187 vandalisms reported at Cornhill Primary, including 33 last year – down from 44 in 2016.
These included a store room break-in and paint smeared on windows.
At Northfield Academy, there were 43 incidents last year – taking the total in the four-year period to 143.
Almost two-thirds of the 99 vandalisms at Aberdeen Grammar were carried out in 2016 – the vast majority were graffiti in toilets.
Teachers there also reported finding destroyed ceiling tiles, and holes punched and kicked in walls.
In addition, school staff also logged 902 smashed windows over the period, outwith the other counts of vandalism.
More than a quarter of these – 223 – were at Tullos School in Torry between January and November 2017.
This included 52 which were broken during April alone.
Altogether the number of vandalisms in Aberdeen's schools has been falling, with 331 last year compared to 409 in 2016, its effects are still widely felt.
A council spokesman said: "Quite apart from the costs such destructive behaviour incurs, we know from our primary school colleagues that it can be really upsetting for children if something they have worked on or raised funds for is vandalised.
"Apart from the emotional upset, there is also the potential disruption to learning. Our teachers have had the experience of coming into school after a weekend and finding a mess created by vandalism."
The city council insisted it does "everything it can" to minimise these events, including by running anti-vandalism campaigns and hiring holiday and out-of-hours security teams.
But Councillor Martin Greig – the Liberal Democrat's education spokesman – said more still needs to be done.
He said: "There are many repeat incidents happening over long periods of time. The response in these cases has to be more proactive.
"It is wasteful to sit back and let the misbehaviour continue like this over long periods.
"We are faced with huge budget pressures and the current attitude will have to change."
Ron Constable, secretary of the Aberdeen branch of teaching union EIS, added: "Vandalism drains money from the education budget that should be spent on bettering the educational experience of Scotland's young people.
"It is in everyone's interest to ensure money is not needlessly spent.
"Whilst the EIS would welcome any appropriate steps that could potentially reduce the risk of violence in Scotland's schools, it is important that these initiatives are appropriate, well designed and properly resourced."