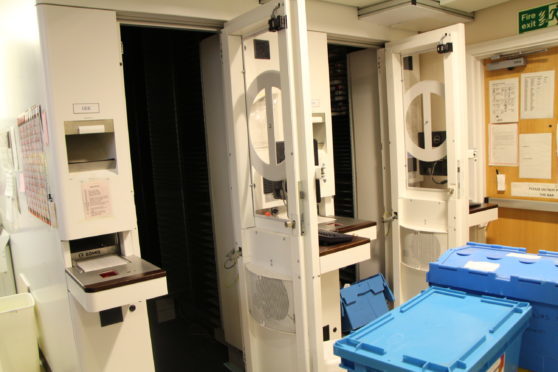 Medication delays for patients at a flagship city hospital are expected to last until next week.
A burst pipe flooded parts of Aberdeen Royal Infirmary on Monday evening, breaking its pill-dispensing robots.
Staff have been forced to measure out prescriptions by hand, or use smaller facilities in the neighbouring children's hospital to give patients their medication.
The health board warned that some may have to wait longer to receive drugs during this time.
In turn, this could affect how long they may have to stay in hospital before getting discharged.
NHS Grampian says the "contingency arrangements" surrounding this will be in place until Monday.
A spokeswoman said: "Patients should be reassured that we have a complete stock of medicines and are able to dispense.
"Some of you may be asked to get your prescription filled at a community pharmacy; others will be required to wait for dispensing at ARI."
She added: "We would ask everyone for their patience and understanding at this time.
"We also want to thank our staff who are working incredibly hard to keep the disruption to a minimum."