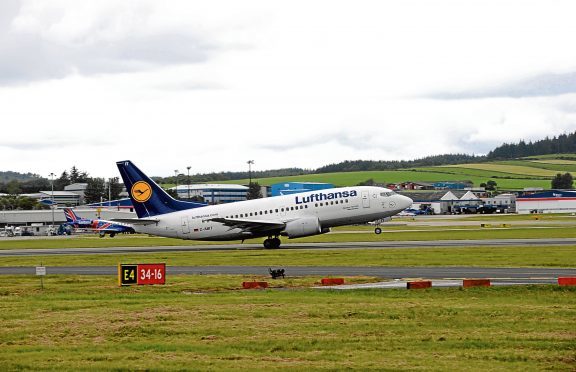 The Scottish Government has been urged to work "night and day" to help secure more international flights from Aberdeen Airport.
Scottish Conservative MSPs made the demand after expressing "disappointment" at looming loss of Lufthansa's service from Aberdeen to Frankurt.
The airline said last month that the twice-daily flights from the Granite City will end on March 25 because the route was no longer commercially viable.
North-east MSPs Bill Bowman and Tom Mason called for greater support to safeguard the future of vital links and attract new services.
Mr Mason said: "Aberdeen is Scotland 's third largest city yet we have hardly any international flights.
"The government should be working night and day to improve Aberdeen's international transport connections, especially as the city is suffering from a long run of low oil prices.
"Almost 250,000 people travelled through the airport in November – an increase of 4.9% on the same period last year.
"Ryanair and Air France have seemed more than happy to back the airport recently. So the Lufthansa decision to cancel this popular route is disappointing."
Mr Bowman said: "It's sad for Aberdeen that a major and well-respected air carrier is pulling out for the foreseeable future but I am hopeful another operator will fill the gap. Perhaps Lufthansa will reconsider.
"There is obviously a demand there, as the passenger numbers prove it."
A Transport Scotland spokesman said: "Improving Scotland's international air links is one of the Scottish Government's top priorities, as it will help build strong business ties and provide a real boost to our tourism industry.
"We will continue to support Aberdeen Airport to grow the number of routes it has to offer, as we do all with all of Scotland's airports.
"These are exciting times for Aberdeen Airport, with the on-going improvement works and January's passenger figures showing that confidence is returning to airport, as well as the wider Aberdeen and Aberdeenshire areas."
Aberdeen International Airport did not respond to a request for comment.