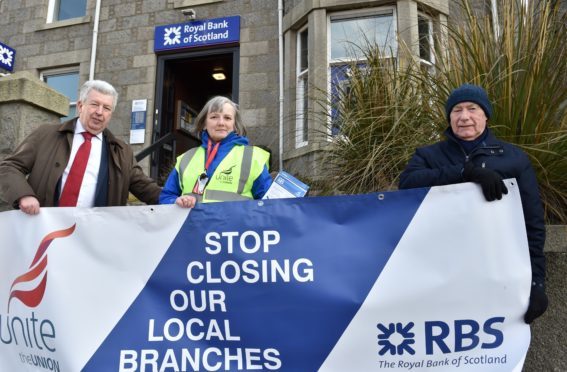 Protests were held over proposed RBS branch closures yesterday after the banking giant revealed it had turned a profit for the first time in a decade.
Bank bosses came under fire last year after announcing plans to shut down 62 branches across the country.
Although there was a U-turn in recent weeks on plans to close 10 of the outlets – including Castlebay on Barra and Beauly – until at least the end of the year.
The proposals, which could affect 158 jobs in Scotland, were drawn up as part of drastic measures to reduce costs.
Yesterday protesters gathered outside closure-threatened branches across the country, including Aberdeen's Bridge of Don and also Wick, after it emerged that the state-owned bank had made an operating profit of £752m.
And RBS chiefs were told to remember their "public responsibility" to the affected communities.
Outside the Bridge of Don branch yesterday Labour north-east MSP Lewis Macdonald said the bank had "a lot to answer for" given bonus payments paid out to senior staff as well as its recent profits.
He added: "I think senior management should remember that in many places, like Bridge of Don, these branches are vital community facilities and I would like to think that they would consider their public responsibility here."
Donna Clark, a member of the Unite union who organised the protest, said: "This is about staff shortages and cutbacks with these people losing their jobs but it's also it's for the people in the community losing their bank."
The bank made an annual profit of £752m compared with a £6.95bn loss the year before but insisted that the closures were necessary due to plummeting usage.
An RBS spokesman said: "Since 2012 the number of customers using our branches in Scotland has fallen by 44%.
"Only 1% of our customers in Scotland now use a branch regularly while seven out of 10 Royal Bank of Scotland customers now use online or mobile banking.
"As customers continue to change the way they bank with us, we must change the way we serve them, so we are investing in and reshaping our network, replacing traditional bricks and mortar branches with alternative ways to bank, including; Community Bankers, Mobile Banks, and Post Offices, so that we can reach even more customers.
"We are fully focussed on engaging with our customers and communities before these branches close to help them to understand and use the many different ways to bank with us".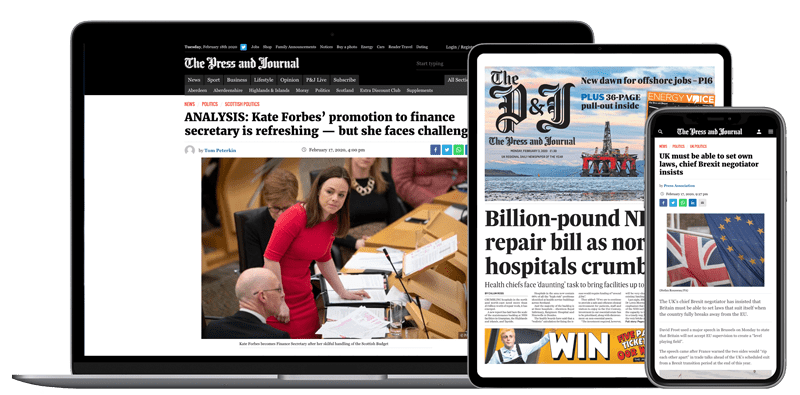 Help support quality local journalism … become a digital subscriber to The Press and Journal
For as little as £5.99 a month you can access all of our content, including Premium articles.
Subscribe