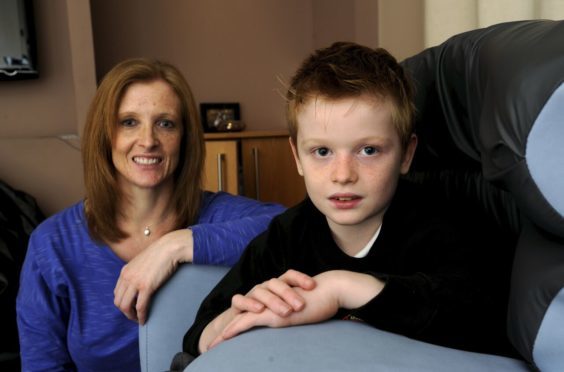 The mother of a boy born with a rare disease says the fear and loneliness she felt raising him prompted her to start her own support network.
Tracy and Mark Milne's son Alfie was born in 2007, and at 18 months old he became one of just 40 people in the UK to be diagnosed with lymphangiomatosis.
The condition causes cysts to develop in almost every part of the Peterculter youngster's body and, in recent years, has left him unable to walk without a frame or crutches.
He also suffers from the rare skeletal condition Gorham's disease, which is sometimes referred to as vanishing bone disease.
"As a mum of a child with a rare disease, you are scared all the time," Mrs Milne said.
"It was so hard in those early days when we had so little knowledge of what was going on and had no idea where we could turn to for support.
"I would go to bed at night wondering if he would be alive in the morning.
"No one could tell us what to expect."
Mrs Milne said the most intense emotion she felt at this time was one of isolation, with no idea of who to turn to for more information.
"We could find no national support groups – let alone one locally," she added.
"What would have made things better would have been being able to speak to people, and being able to share experiences."
The experience prompted her to start Alfie's Trust with her husband in 2012.
Since then the charity has helped families not just in the UK but across the world by connecting families and funding research projects.
Mrs Milne said: "When Alfie was diagnosed there was no support or guidance.
"We just wanted to be able to help others so they didn't have to go the same problems that we had.
"Our work has continued over the last few years and we always try to get involved in Rare Disease Day to help other people with other conditions.
"By doing this we are not just helping our son, but others in our community as well."
For more information about Alfie's Trust, visit www.alfiemilne.org.uk