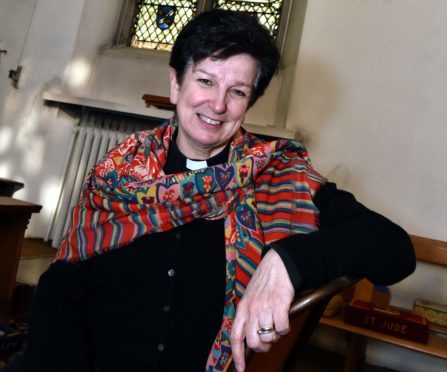 She will become Scotland's first female bishop later this week, but has already made it clear she isn't interested in restricting herself to prayers, pews and parochial parish life.
On the contrary, the Rev Canon Anne Dyer is focused on fighting for social justice, sexual equality, and representing everybody in her new diocese.
Her appointment has sparked controversy in some circles, with a protest letter against her "divisive" selection as the new Episcopalian Bishop of Aberdeen and Orkney raising concerns about the way in which she was selected and whether her inability to drive might create problems in remote areas.
But the bishop elect is determined to hit the ground running – and even urged anyone who sees her on the bus to stop for a chat, so she can hear what matters to them.
The 61-year-old Yorkshirewoman – who celebrated her birthday last week by sharing cake with her home removal company – will not be formally installed in the role until Thursday.
But, having relocated from Haddington to Aberdeen, is dedicated to promoting tolerance, inclusivity and being the catalyst for a church with a clear social conscience.
She said: "I have just moved from East Lothian where I was a founding trustee and then the chairwoman of the East Lothian Foodbank. This came about because there were so many people turning up at my rectory door asking for help.
"It is shocking that such provision should be needed in Scotland in this day and age.
"I have also been committed to helping those suffering with poor mental health or disability issues and trying to improve the quality of life for many of the poorest people in our country.
"For me, prayer should lead us to action, to the practical sharing of the love of God where we live.
"A bishop has a special role to play in this regard, especially through advocacy, because she should be able to see the pattern of need and understand where larger systems of care are failing.
"I am very much looking forward to playing a part in the betterment of the region in this way."
There is no sense of her being dragged into turbulent waters against her will, even though some people have voiced criticism of her support for same-sex marriage.
She has previously officiated at such ceremonies as the rector of Holy Trinity in Haddington. And while she recognises not everybody shares her opinions, the Rev Canon Dyer tackled the different concerns at St Andrew's Cathedral on Friday.
In terms of her backing for gay marriage, she responded: "The Scottish Episcopal Church officially acknowledges that there is not one view on marriage within our church today.
"We hold differing views according to our consciences, but also after varied readings of the bible and prayer.
"Whatever view a person holds, they are welcome. It is the bishop's role to try to hold diversity together, to enable those who disagree to find common cause and purpose, and see Christ present in every person.
"But I imagine this is one matter which people will have much to say to me in the months and years to come."
One senses, given the steely glint in her eye, that any traditionalists spoiling for a fight will have to accept she is as entitled to her perspective as they are to believing in the literal scripture of the Old and New Testament.
Nor does the Rev Canon Dyer seem unduly bothered by those who question her lack of a driving licence. After all, she isn't applying to join Top Gear.
"I have never driven and all the jobs I have done have required me to travel over large areas," she said.
"I really enjoy using public transport, especially for the opportunity this gives me to meet people from all kinds of backgrounds.
"I am very chatty and I love hearing about what people believe – or don't believe.
"There are many, many people who believe in God and who pray, but would never think of attending church.
"It is important for church ministers to hear their stories and understand why what we – the churches – offer might not seem very relevant to them.
"So, if folk now see a woman in a purple clerical shirt on the bus, they should say hello and tell me what matters to them."
She accepts that her trail-blazing status has attracted a lot of publicity, both within the church and among the wider public.
And the Rev Canon Dyer reads sufficient newspapers and watches enough television to have kept up to speed with recent sexual harassment and gender inequality scandals, from Hollywood and Harvey Weinstein to the BBC and Carrie Gracey.
Once again, she appears ready for the scrutiny she will face when she is consecrated on Thursday.
She said: "I was elected to the office of bishop because of my expertise and experience. The College of Bishops of the Scottish Episcopal Church discerned that I was a very good fit for the needs of the diocese at present.
"I am experienced in training people for a diversity of roles and I am confident the Church has a role to play in every community, town and village, as well as nationally.
"I hope people will see me, first and foremost, as a committed Christian who wants to do the best in improving the lives of many.
"However, everything I do is shaped and informed by my life experience as a woman.
"I am a daughter, a sister, a wife and a mother (she is married to Roger and the couple have one daughter, Millie).
"I have been very well educated at a girls' school and a women's college at Oxford University and I see this as being a privilege.
"As a bishop, I will have things to say about the experience of women, especially relating to poverty, human safety and harassment."
The Rev Canon Dyer said she thrilled about making the move to Aberdeen, and spoke of the region's great beauty, its warmth, and its welcoming attitude towards outsiders.
But she seems prepared for the possibility of the flak over her appointment continuing from the sidelines in the months ahead.
She added: "In Scotland, where so many fine women are involved in leadership of public life, it is an honour to be the first female in such a role.
"My focus will be to play my part in partnership with all those who work for the good of all who live in the region.
"One of my priorities will be to hear how people feel they have been affected by the process that has brought me here and do what I can to heal any divisions."
From chemistry to Christianity and all the stops along the way
Anne Dyer was born in Bradford in February 1957.
She attended Bradford Girls Grammar School in the West Yorkshire city and subsequently studied Natural Sciences (Chemistry) at St Anne's College at Oxford University.
Thereafter, she worked for Unilver as a business systems analyst and, during this period of her life, joined the Church of England, attending her parish church, where she was a youth leader.
Having trained for ministry at Wycliffe Hall in Oxford, and studied for a MTh at King's College in London, she was one of the first women to be ordained in the CoE in 1987 and became a priest in 1994.
During the 18 years she served in the diocese of Rochester, she was instrumental in ministry development, an adviser in women's ministry, and was a member of Rochester Cathedral.
From 2005 to 2011, the Rev Dyer was the first female warden of Cranmer Hall, the Anglican theological college in Durham.
While based in the north east of England, she established a network of those working with visual arts and was also an honorary canon of the cathedral.
In 2011, she relocated and became rector of Holy Trinity Church in Haddiongton.
She chaired the review of ministerial training in the Scottish Episcopal Church and this led to the establishment of the Scottish Episcopal Institute.
While in East Lothian, she served as a member of General Synod and was chairwoman of the East Lothain Foodbank.
A lover of the visual arts, she told the Press and Journal of the influence which they had on her.
She said: "I spend a lot of time in galleries, where I like to pray while looking at pictures.
"Good art asks the important questions of life: Why are we here? Do I matter? Who loves me? Should I be frightened of death?
"I enjoy making connections between paintings and the answers that the Christian faith gives to these questions."