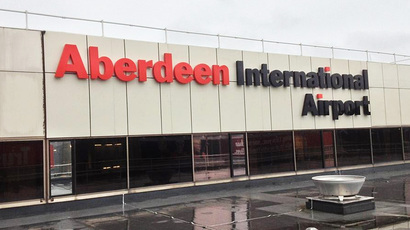 A number of flights to and from Aberdeen International Airport have been cancelled today.
Many others have been delayed.
Flights from Newcastle, Kirkwall, Durham and Heathrow have already been cancelled this morning.
And aircraft heading to Norwich, London City and Humberside have all been delayed.
A spokesperson for Aberdeen International Airport said: "In the event of adverse weather conditions, our airside operations and snow-clearing teams are on standby to ensure Aberdeen International Airport's runway remains fully operational."
They added: "Passengers are advised to check their flight information at intervals prior to flying.
DEPARTURES – DELAYED
10:30 – LONDON HEATHROW British Airways
10:45 – SUMBURGH Eastern Airways
12:15 – STORNOWAY Flybe
13:00 – SUMBURGH Eastern Airways
13:25 – SCATSTA Eastern Airways
13:55 – SCATSTA Eastern Airways
14:30 – MANCHESTER Flybe
14:30 – MANCHESTER Virgin Atlantic Airways
14:30 – MANCHESTER Etihad Airways
14:30 – MANCHESTER Finnair
14:30 – MANCHESTER Emirates
14:40 – LONDON HEATHROW British Airways
14:40 – LONDON HEATHROW China Eastern Airlines
16:30 – WICK Flybe
16:45 – SCATSTA Eastern Airways
17:15 – SCATSTA Eastern Airways
DEPARTURES – CANCELLED
14:10 – NORWICH Flybe
15:00 – SUMBURGH Loganair
15:00 – SUMBURGH British Airways
15:15 – DUBLIN Aer Lingus
16:45 – PARIS (CDG) Air France
16:45 – PARIS (CDG) Flybe
16:55  – LONDON HEATHROW British Airways
ARRIVALS – CANCELLED
14:20 – SUMBURGH Loganair
14:20 – SUMBURGH British Airways
14:50 – DUBLIN Aer Lingus
16:05 – PARIS (CDG) Air France
16:05 – PARIS (CDG) Flybe
16:05 – LONDON HEATHROW British Airways
17:10 – NORWICH Flybe
18:25 – LONDON HEATHROW British Airways
19:20 – LONDON HEATHROW British Airways