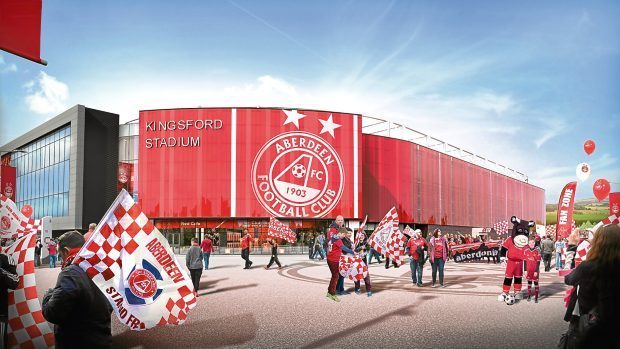 A group opposing the new Dons stadium development have vowed to fight on as the deadline for the Scottish Government to object approaches.
The £50million Kingsford scheme, for land between Westhill and Kingswells, was approved by city councillors on January 29, giving the Scottish Government a 28-day time limit if they wish to call it in.
Club bosses say the facility is needed to keep the Dons as a major force, while objectors remain deeply concerned by the impact on traffic and parking.
The No Kingsford Stadium group is now aiming to raise around £60,000 for a legal challenge should the Scottish Government not call in the application.
A spokeswoman for the group said: "We await a decision by Scottish Government on calling in the application.
"Should they do so, NKS will lobby for a full public enquiry to be established to investigate the application and will seek to be represented at such.
"If the application is not called in, we will lodge our petition for judicial review and have fully funded this element of the campaign.
"We continue to request donations to ensure that we can continue the legal case through the hearing process."
Aberdeen FC withdrew an initial application in October amidst rumours that the city council would recommend rejecting the plan.
Planning convener Marie Boulton had called on the council to publish the report, but the authority denies it was ever completed.
A Scottish Government spokesman said its response to the development was still under consideration.
"Ministers aim to inform the authority of whether the application will be called in, or cleared back to the authority, within 28 days of receiving the formal notification," he said.
"This can be extended should Ministers require more time to consider the matter.
"For this case, the 28 day period started on February 8, once all required documents were received from the planning authority. "