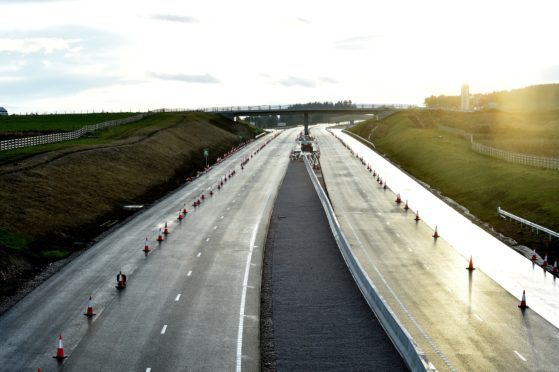 Transport chiefs were under fire last night after it was finally confirmed that Aberdeen's long-awaited bypass would not be completed on time this spring.
The collapse of construction firm Carillion means that the Aberdeen Western Peripheral Route (AWPR) is not now expected to be finished until the summer.
Despite repeated calls for clarity over the timetable following the consortium partner's liquidation in January, ministers had refused to revise the target for the 36-mile road.
The new completion date was revealed yesterday by Balfour Beatty, which is contractually obliged to finish the £745million project, alongside the third consortium partner Galliford Try.
Last night, the Scottish Government faced questions over why they had "refused to hold their hands up and admit" that the scheme would be delayed.
Labour MSP Lewis Macdonald said: "Economy Secretary Keith Brown reassured us just the other day, he reiterated in parliament that it would be spring. Any interpretation of spring is before summer.
"If Balfour Beatty is telling the stock exchange one thing and Keith Brown is telling parliament another, clearly something has gone wrong.
"It has already been a long time coming. It has been put off and put off over 15 years since the decision to build the road was taken. People are impatient to see it delivered."
Cost overruns on the AWPR, which was first proposed to alleviate congestion in the Granite City in the 1950s, have been described as a key reason behind the demise of Carillion, previously the UK's second largest construction firm.
The Scottish Government's contract with the consortium means that there is not expected to be an additional cost to taxpayers, but north-east business leaders have warned of the negative impact of "not being given clarity" on the timetable.
Peter Chapman, Scottish Conservative MSP for the north-east and shadow connectivity secretary, said: "Balfour Beatty has just confirmed what most people in the north-east have long suspected – this road is not going to be finished on time.
"Motorists and businesses will be disappointed but will understand that these major projects sometimes can run beyond the original timescale.
"The problem is that SNP ministers have just refused to hold their hands up and admit it.
"I have raised this issue with the economy secretary on a number of occasions, and he certainly could have been more open and honest about these delays.
"We must now have a statement to parliament at the earliest opportunity."
The new timetable emerged as Balfour Beatty announced its annual results, with the firm saying "completion is now expected in the summer of 2018".
A Scottish Government spokesman said: "The Scottish Government continues to have discussions with Aberdeen Roads Limited (ARL) in order to achieve an agreed date for the earliest possible completion of this project, despite the recent insolvency of Carillion.
"We expect these to conclude shortly and will provide a full update to Parliament at that time."