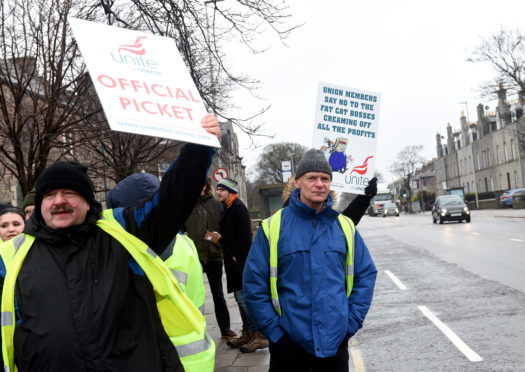 Council bosses have warned that children's education could be disrupted amid a series of 24-hour strikes by city bus drivers.
Staff from First Bus took to the picket lines again yesterday for a second day of industrial action, forcing senior management to get behind the wheel to operate a skeleton service to pick up desperate passengers.
Of the company's 20 routes in Aberdeen, six had all buses cancelled, while nine were running every 30 minutes and five were operating hourly.
Last night the firm said it had been running at 61% capacity for the day – noting an improvement on the 60% from the first strike which was held on Friday.
The reduced timetables led to delays for many commuters, with some forced to find alternative means of transport to reach their destinations.
There was also a warning that the strike action could begin to affect children who need to travel between locations during their school day.
An Aberdeen City Council spokesman said: "Our school buses have not been affected by the First Bus driver's strike.
"However senior pupils who attend virtual City Campus, and move around the city on travel afternoons – from Monday to Thursday – to attend classes in other establishments may be affected as they use public transport, which is on a restricted timetable during the strike period."
Further 24-hour walkouts are planned for Wednesday and Friday, with a seven-day strike beginning on Sunday.
The dispute stems from proposed changes to terms and conditions, which are being opposed by 95% of bus drivers in Unite the union.
They fear the changes could lead to longer working hours and less holiday entitlement, but their employer says the move would protect jobs in the long term.
A First Bus spokesman said that passenger feedback was being actively "taken on board," with services switching as necessary in order to best accommodate customers.
Andrew Jarvis, the company's managing director, added: "I would like to reassure all customers that regardless of this industrial action at the King Street depot, we have published plans outlining the minimum service level we intend to run, but with every effort being made to improve on these frequencies."
Regional organiser with the Unite trade union, Mike Flinn, felt the bus operator was being "a little ambitious" with its assessment of the level of service provided.
"I would say it's nearer 50%," he said.
"We have some drivers going the wrong way or not stopping for passengers because they are unaware of the stops, but the city still has plenty of buses."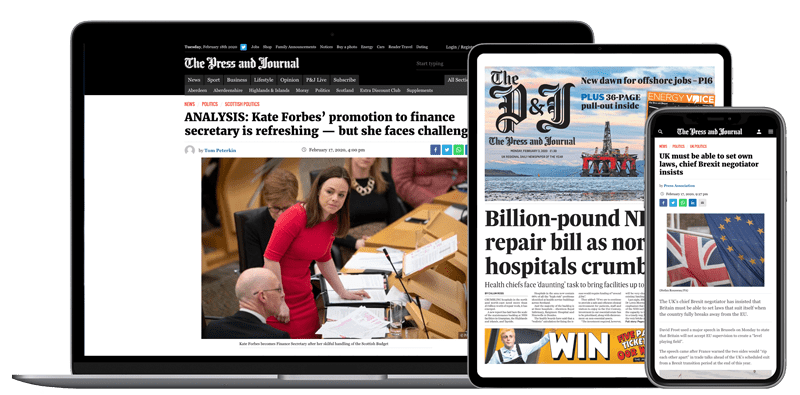 Help support quality local journalism … become a digital subscriber to The Press and Journal
For as little as £5.99 a month you can access all of our content, including Premium articles.
Subscribe