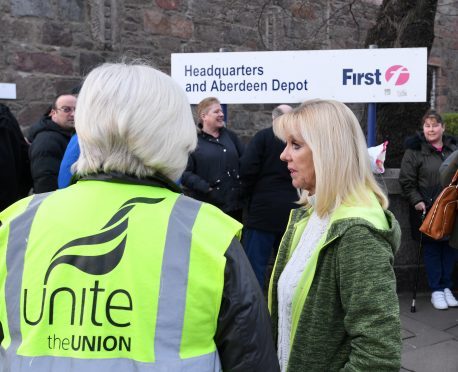 Bus firms last night hit out at accusations they have offered bus drivers large payouts to work in Aberdeen amid strike action.
Unite the Union made the claims after workers met in Glasgow to discuss further support for striking employees of First Bus Aberdeen.
In a statement, Unite said it "believed" both First Bus and Stagecoach were offering significant sums to bus drivers from across the Scotland to come work in the city.
Union Leader Dougie Maguire branded it a "deliberate attempt" to undermine the strikers.
Andrew Jarvis, managing director for First Aberdeen, confirmed his firm had brought in extra drivers.
"To reduce inconvenience to customers whilst the strike action takes place, we have welcomed drivers from other First Bus businesses who have travelled from our sister companies across the UK to assist us in keeping the network operational," he said.
"These colleagues have been paid for travel, training and time worked for providing this cover.
"We remain open and available for talks with our union colleagues as we seek a solution that will end the industrial action."
Stagecoach, meanwhile, wholly refuted the union's claims that it was offering large payouts.
A spokeswoman for the bus operator said: "There is absolutely no truth in this claim from Unite.
"We have additional vehicles and additional staff in Aberdeen to ensure our customers are not inconvenienced as a result of this action and the decision made by First Aberdeen."