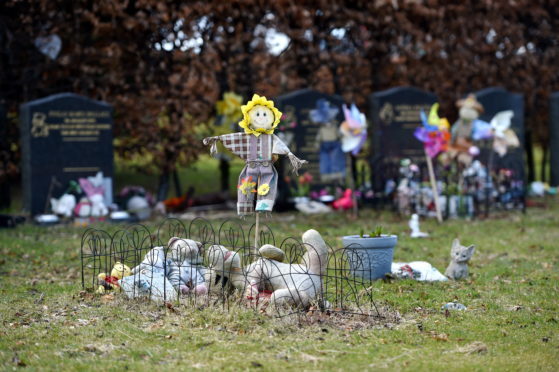 Grieving parents have been told to remove cuddly toys and other memorabilia from the grass beside their babies' graves because they are considered a safety hazard by the city council.
The local authority said the items were banned because they could cause "severe injury" if caught up in grass-cutting machinery.
It plans to extend the space presently available for flowers in order to make room for other mementoes.
And affected families have been told they have until April 1 to remove existing items before the work starts.
Any that are left will be moved to a memorial garden until May 19 and then "collected and stored" for another six weeks before being disposed of.
A spokeswoman for the council last night said they had tried to deal with the situation with sensitivity.
"Letters have been sent to every family who we have records for a burial at Hazlehead, we have also sent information to the hospital, and have been liaising closely with (stillbirth and neo-natal death charity) Sands and have offered to meet families individually.
"We appreciate this is an extremely sensitive and emotional issue and we are trying to respect all users of Hazlehead Cemetery.
"The tasks will be carried out by our staff in a sensitive and dignified manner, and we hope people will understand why the improvements are being carried out."
The authority said the rules outlawing tributes being left on the grass were clearly displayed at the cemetery and were enforced by other councils.
"The grass areas in between headstones allow bereaved families unhindered access to the headground and their memorials and memorabilia left on the grass may be caught up and thrown from machinery causing severe injury to visitors to the cemetery or staff," it added in a statement.
"To accommodate small mementoes alongside the existing spaces for flowers, the space at the headstones is to be increased to 6" and work on increasing the size will start just after April1 and should be finished by April 7."