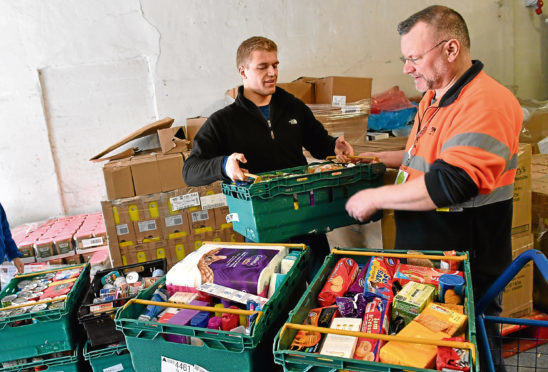 In a city known as the energy capital of Europe with taxi and house prices comparable only to London, Aberdeen has a wealthy reputation.
With oil running through its veins, to a large extent the city was safeguarded from the rapid economic decline of the global credit crunch in 2008.
Where other areas of Scotland suffered from falling house prices and rising unemployment, the north-east was named as one of the areas spearheading the UK's pathway out of recession.
Yet despite the oil and gas sector creating something of a mini-economy throughout Grampian, the bubble had to burst sometime.
And burst it did, when oil prices plunged to under $30 per barrel in 2016 from a record high of nearly $150 a barrel seen a few years earlier.
Widespread job losses ensued, with empty retail units and "To Let" signs marking the changed landscape of the city.
Two years on from the oil price crash, it's clear the area is still struggling, as the number of crisis cash applications to the government from hard-pressed families has rocketed across the Highlands and the north-east.
Former oil workers are now struggling to make ends meet, with some queuing for parcels at local food banks.
Dave Simmers, chief executive of Community Food Initiatives North East (CFINE), has seen the impact firsthand.
Housed in a former tram shed near the city's docks, CFINE is a social enterprise and food bank which offers various help and advice services to many of the north-east's most vulnerable people.
Since he began with the company in 2004, Dave has seen a decidedly big shift in who accesses the organisation's services.
"One man came in to use the food bank in his Porsche," said Dave.
"He had a very well paid job which he'd been made redundant from, and had lost his house as a result.
"His car was on credit and he had considerable debts.
"By the time he came to us he had already been assessed by the council and they referred him to the food bank.
"It's an entirely different demographic, with lots of casualties from the oil industry who have been either directly or indirectly affected by the downturn."
But it's not just who uses the food banks that Dave has seen a change in.
"Oil companies used to be our biggest social enterprise customers and the profit from that supported our charity work," he said.
"But that has all changed now.
"All in all we've lost 74 oil companies who used to regularly support us.
"And it was a double whammy of a hit, because we suffered from a decrease in income yet a huge increase in need.
"It decimated us.
"We are giving out about 70 food parcels a day now, and had our busiest day ever a few weeks ago where we handed out 111 parcels.
"Last year we gave out roughly 10,000 parcels, but this year I expect we will hit closer to 15,000."
Since late 2014, it's estimated more than 150,000 people across the UK have lost their jobs in the oil industry and its supply chain, while many thousands more have taken significant pay cuts.
Yet in the north-east it's not just those directly linked to oil who are suffering.
Dave Kilgour, CFINE's development work manager, says that the most common type of poverty is what he calls "in-work poverty", and affects people across Scotland.
"The majority of families that you might class as poor are actually in work," he said.
"Of course there are some people with disabilities, mental health issues or who have problems with addiction who aren't in employment, but in my experience they are not the majority.
"People want to work, it's that simple.
"The problem is that they are on a minimum wage which can't cover the basic cost of living.
"Or on zero hour contracts with very little stability.
"When people in this situation need help, of course they look to the government for benefits.
"But when the government can't help, or perhaps if there is a delay in receiving benefits, that's when people have little choice but to turn to food banks."
Inverness councillor Richard Laird puts it simply: "Wages have not kept up with inflation, and that's the bottom line."
A councillor for Inverness Central, the ward Richard represents encompasses Merkinch, an area which has been described as the most deprived community in the Highlands.
He recognises a significant change which has occurred over the last three years, and believes people are now worse off than ever before.
"In my opinion it's down to the introduction of universal credit," he said.
"It's the new benefits system which is apparently designed to be more streamlined, but in reality it has undone a lot of progress made in the last 10 years."
The controversial new scheme is a single monthly payment for people in or out of work.
It replaces individual benefits such as housing benefit, child tax credit and job seeker's allowance, instead combining them into one lump payment.
However, the system pays in arrears, and can see claimants wait up to six weeks before receiving any funds.
The scheme has not yet been rolled out across Britain, but Inverness was chosen as a pilot area meaning that the city has been running on the system for close to three years.
"We were the guinea pigs of the experiment," said Richard.
"And the six-week delay in getting the benefits is a real issue.
"Lots of people are casual labourers or do seasonal work, meaning that their employment can be very stop start.
"Every time it stops, people need to fall back on benefits, but now they have a huge delay in getting them.
"How are people meant to eat or pay their bills during this gap?
"It makes it extremely easy to run up spiralling debts."
The scheme is expected to roll out in the north-east later this year, and already CFINE say they are expecting a "tsunami" of applications following its implementation.
However, despite thousands of individuals across Scotland falling on hard times, it takes an element of courage to admit that you're struggling.
John Mulhern is a community connector at Instant Neighbour, a food bank support service on St Machar Drive in Aberdeen.
"I'm the first point of call when people arrive at the food bank," he said.
"I chat to them and find out their situation and how we can help.
"We give out food parcels, but we also offer extra help to individuals struggling with health issues, redundancy or benefit problems.
"There is a huge stigma attached to using these services.
"I know many people who come all the way across the city from Torry to use the food bank on St Machar Drive because they don't want to be seen in their local branch needing help.
"Public perception is that we are supporting people who have drug and alcohol problems, but we are not – it's real people who genuinely cannot afford to feed themselves."
It took 37-year-old Kelly Donaldson from Aberdeen years before she plucked up the courage to ask for help.
"My partner was on a zero hour contract so his wage was hugely variable," she said.
"I was diagnosed with clinical depression and received low income benefits, but because on paper my husband was employed at a reasonable rate of pay, the money I got was hardly anything.
"There would be weeks when we would have nothing, but we still had to pay the bills."
Kerry Wright, 35, from Banff, found herself in a similar situation just a year-and-a-half ago.
"I had a very abusive childhood," she said.
"It was all I'd known, then I had three children of my own, two of whom have autism.
"I couldn't work because I had to care for them.
"If you ever miss a benefits related appointment you get sanctioned for six weeks.
"It means no money, so you can't buy food, can't heat your home and can't wash your clothes."
Both Kerry and Kelly found help at CFINE, where they now volunteer to help others in their situation.
In particular they are passionate about what they call "period poverty", and have been a driving force behind a Scottish Government pilot scheme which offers women from low income households in Aberdeen access to free sanitary products.
It follows a growing campaign demanding "dignity" for women whose budgets do not stretch to sanitary protection.
"I missed school when I was a teenager because I didn't have any sanitary products," said Kerry.
"I had no sense of pride in myself.
"Poverty is still a huge issue in 2018, and needs to be looked at from so many different angles.
"It is so much more than access to a food bank."