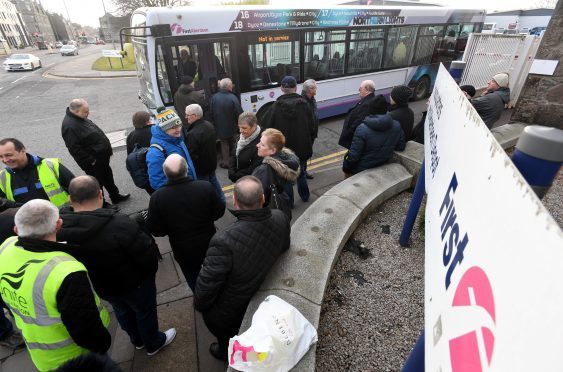 Bus drivers in Aberdeen have voted to strike for four straight weeks unless a resolution to their dispute with First is resolved.
At a meeting last night, 152 members of Unite the union voted to escalate their industrial action from Friday, April 6.
Currently staff are striking amid a dispute over changes to their terms and conditions.
The last in a series of 24-hour walkouts will be held tomorrow, ahead of seven days of action beginning on Sunday.
First Bus has said the alterations to contracts are necessary in order to protect jobs in the long term, but workers argue it will result in longer working hours and less holiday entitlement.
Mike Flinn from Unite said: "Until we get back around the table and talk seriously, we have no option but to go down this path.
"Hopefully the upcoming week of industrial action might put some kind of reality back into the situation, instead of where we are at the moment."
Next week Unite officials from Glasgow and London are expected to travel to Aberdeen to speak to workers.
Mr Flinn added: "There is an anger throughout union branches across the country, and not just in transport.
"There are 700 in Scotland and they are all behind us."