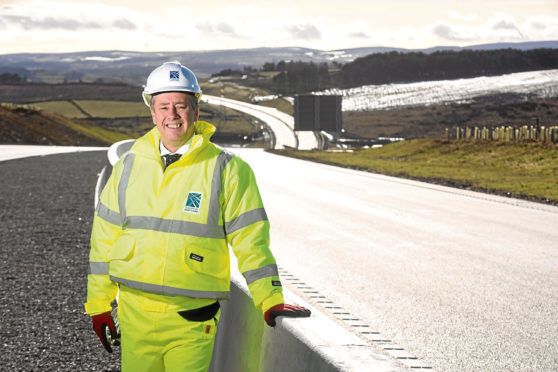 Economy Secretary Keith Brown has hinted that the Scottish Government would consider splashing the cash to try to speed-up the delay-hit Aberdeen bypass.
He told the Press and Journal that ministers would look to "hasten" the Aberdeen Western Peripheral Route (AWPR) contract, even if it requires "further resource".
Mr Brown was speaking after confirming to Holyrood on Thursday that the £745million road would not be completed on time this spring, with late autumn now being targeted for the opening.
The SNP minister also delivered more bad news, with confirmation that a £30million upgrade of the notorious Haudagain roundabout in the Granite City would also face a fresh delay, following the change in timetable for the AWPR.
The schedule change for the 37-mile bypass was blamed on recent bad weather, as well as Storm Frank in 2015 and the liquidation in January of construction firm Carillion.
Mr Brown said the delay would not impact on the price tag for the work, but added: "What we will do is we will look at this and if there are things which can be done to hasten the contract and if that requires further resource, we would look at that.
"We're not looking to save money. Of course we want to have the efficient use of public funds, but there's nothing in this to try to get us to save money."
Aberdeen councillor Ross Grant said yesterday that he had written to the Scottish Government asking for clarity over the timetable for the Haudagain works.
Mr Brown insisted the scheme could not be brought forward.
"We're well into the process of the Haudagain. There's still other work to be done, for example through the council's responsibility in terms of the housing and so on as well," he said.
"We will provide further information on Haudagain as we have it, but as things stand it will run on immediately after the completion of the AWPR.
"But we're not stopping the works that we have to do just now in terms of the invation to tender, that's already started."
Lewis Macdonald, north-east Labour MSP, said: "The big picture is that this is yet another delay to the AWPR and the Haudagain roundabout work. T
"he government has to deliver them as soon as possible."
He also questioned whether a claim for "substantial" costs, which has been made by the contractors against the government, could account for Mr Brown raising the prospect of "further resource" being required to accelerate the AWPR's completion.