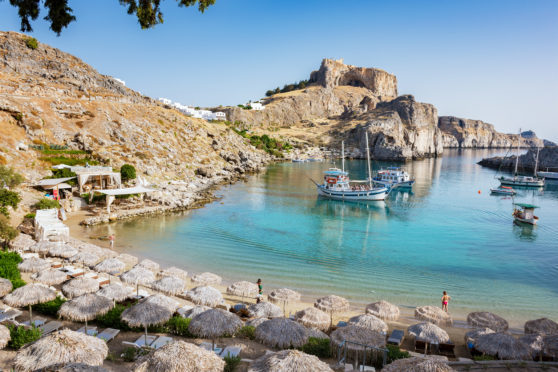 Aberdeen Airport has announced new flights to a popular European sun-spot.
From summer 2019, TUI will be whisking passengers away to the Greek island of Rhodes – home of one of the world's best-preserved medieval cities and famous for the 108ft tall Colossus statue.
It will be the first time the island has been accessible direct from the Granite City.
The revelation came amid a string of good news stories for budding sunbathers, as the airline is also launching a new route to the Spanish city of Reus in May.
And as of next summer, it will also increase its connections to Palma in Majorca, increasing the number of weekly flights to four.
Carol Benzie, airport managing director, said: "People in our region tell us constantly that they are keen to see new leisure destinations from their local airport and Rhodes has never been served out of Aberdeen before.
"It is fantastic news that TUI will also be increasing their rotations to Palma, Majorca, as this is a hugely popular holiday choice for Aberdeen passengers."
Richard Sofer, commercial director at TUI UK, has described next summer's programme as "the most ambitious we have ever introduced."
He said: "We are focusing firmly on expanding access to our amazing range of holidays through an extended regional flying programming concentrated on the core destinations holidaymakers want to travel to, while offering the flexibility of holiday duration they want."
This week the first Ryanair flights from Aberdeen to Malta will take off.
The airline returned to Aberdeen last year, bringing with it connections to popular holiday destinations Alicante, Malaga and Faro.
Mrs Benzie added: "Ryanair's new route to Malta, which launched this week, is a truly exciting addition to our growing network of summer leisure destinations."
The new route has been has been hailed as "excellent news for air connectivity to Aberdeen," by VisitScotland's regional director Jo Robinson.
She said: "We welcome any new air routes that introduce the Granite City to the world and showcase our beautiful city.
"Aberdeen has benefited from a huge amount of investment and redevelopment recently, including at the airport and we look forward to welcoming these visitors."
"A great experience lies in wait."