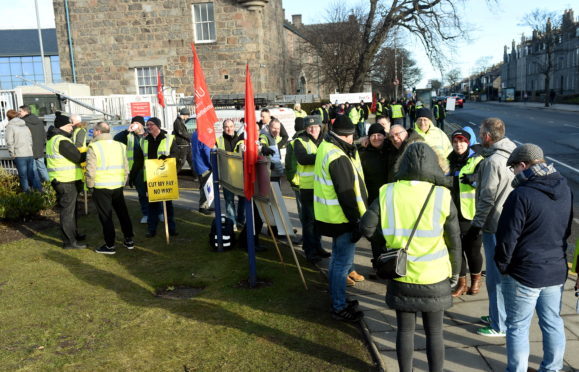 The city council is seeking to accelerate plans to bring back publicly-operated buses – amid warnings the drivers' strike is damaging efforts to get people out of their cars.
A week-long walkout by First employees over changes to contracts enters its second day today, with even lengthier action proposed if no breakthrough is made.
Councillor Ross Grant, the administration's transport and regeneration spokesman, said the dispute was "greatly frustrating" and due to "very unfortunate" circumstances.
And he revealed that he had written to the Scottish Government calling for restrictions on local authorities operating bus services to be lifted.
"It is greatly frustrating for the citizens of Aberdeen and a very unfortunate set of circumstances that we're finding ourselves in with the ongoing and escalating disputes with First Aberdeen," he said.
"We feel that a modal shift in encouraging people to use public transport is very important, and as part of that ideally we would like to see additional options on the table.
"We know there is a lot of work to be done to encourage people to leave their car at home and take the bus, and naturally long-running strike action is not going to do that any favours unfortunately."
Last year, councillors unanimously backed a motion to instruct council officers to investigate how they could bring back "corporation buses" to the Granite City.
But it needs the Scottish Government to devolve powers to councils to establish municipal bus companies before a business case can be considered.
The administration has now written to transport minister Humza Yousaf asking if he intends to lift the current legal ban
Labour's Mr Grant added: "We believe re-regulation is needed to protect services to areas of need within our city and to ensure bus fares are affordable for all users. It is therefore important that the Scottish Government supports lifting the ban on council owned bus services in order for the council to consider the viability or otherwise of establishing a municipal bus company."
A spokesman for Transport Scotland said: "We are committed to supporting services and tackling the historic decline in bus passenger numbers.
"The forthcoming Transport Bill aims to give local authorities the flexibility to pursue partnership working, local franchising, or running their own buses, allowing local authorities to better respond to local needs."
Yesterday north-east MSP Lewis Macdonald joined the picket line on King Street to support the bus drivers, who are protesting against proposed changes to their contracts which would result in longer shifts and reduced overtime rates.
He said: "The service that these drivers provide to Aberdeen is very important, and we have seen how important it truly is with the impact their action has had on local bus services."
A First Aberdeen spokesman said: "We are extremely disappointed and frustrated with the continuation of the industrial action despite two significant improvements to the original offer, but we remain open and available for talks with our union colleagues as we seek a solution that will end the industrial action."