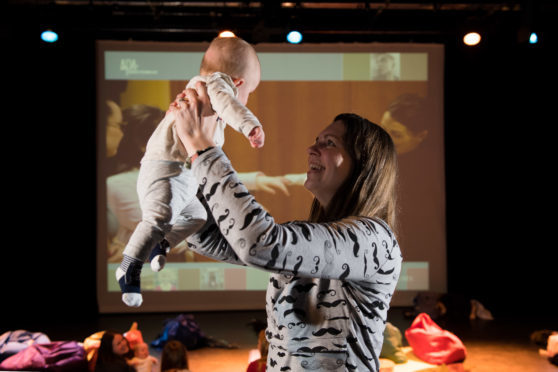 They say you're never too young to appreciate art.
And now, amidst the transformation of Aberdeen's Music Hall, a pioneering project has been launched to engage with a very new generation of enthusiasts.
Aberdeen Performing Arts, the charity behind the redevelopment, has invited parents of babies born in the city and shire in December 2017, to participate in a programme of arts activities throughout the first year of the children's lives.
To date, 57 babies have been signed up and they will all be one-year-olds when the Music Hall re-opens this December.
During the year, they and their families will have the opportunity of attending monthly creative workshops in music, dance, drama and visual arts, led by APA and companies such as Scottish Opera, Scottish Dance Theatre and Live Music Now.
At a special launch event this week at The Lemon Tree, they were given the chance to meet and get to know each other, while finding out more about the workshops on offer.
APA's chief executive Jane Spiers said: "The Music Hall transformation has secured the building at the cultural heart of the city for many generations to come.
"What better way to celebrate this fact than by opening up our programme to welcome the very newest of arts participants and their families in our city."
The organisation's learning manager, Lisa Mathieson, added: "Our new spaces will give us a permanent home for an exciting and diverse programme of activities from birth to teens and into adult life.
"We look forward to adding Music Hall Babies to our existing repertoire of projects aimed at early years' engagement."
The initiative is part of APA's Stepping In programme, which is taking place in the prelude to the re-opening of the Music Hall.
Nexen Petroleum UK Ltd has invested £20,000 to support the project in its first year of operation.