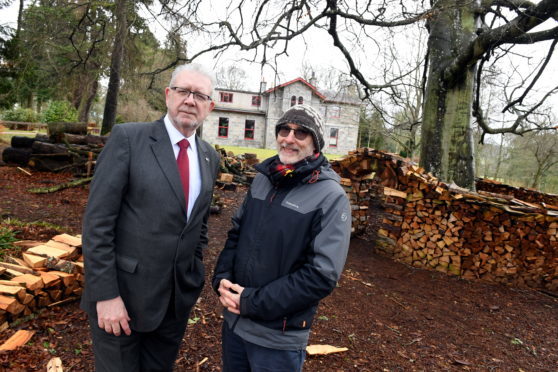 A senior Scottish Government minister has raised fears Brexit could do "real damage" to organisations like Aberdeen's Camphill. School while on a visit to the north-east yesterday.
Michael Russell, the SNP's Minister for UK Negotiations on Scotland's Place in Europe, delivered the warning while on a visit to the north east yesterday.
He toured the additional support needs school in Milltimber and spoke to teachers, volunteers and pupils.
Mr Russell said he was told of concerns over the future of Camphill, which is staffed by a significant number of people from EU countries, after Brexit.
Around 69% of the school's short-term workers and 58% of its permanent employees come from EU nations.
Mr Alfred, executive director of Camphill School, said: "Camphill was started by refugees in 1940s, fleeing from Nazism.
"They were Jewish and Austrian refugees and they found their home here in the north-east of Scotland, Ever since then we have been a fully inclusive community.
"It's very hard to imagine a Camphill without Europeans – we rely a lot on the international community for the work that we do here.
"Because of the way negotiations seem to be unfolding, the majority of our European co-workers who are currently here will have the right of residence, so I don't see that we'll lose a significant number of people because of Brexit.
"I do, however, think it's likely that we will have problems attracting people to come here if Scotland is out of the EU in the future."
Mr Russell said Camphill School was "a key example" of Scotland's strong relationship with Europe and the challenges of Brexit.
"There are staff here from more than 25 different countries, but they come because it's easy to do," he said.
"Without freedom of movement, people will become reluctant to come to places like Camphill School all across Scotland.
"Brexit is unnecessary and it's going to do real damage."
While Mr Russell's views concerns echoed those of the school's management, they did not find favour with Ross Thomson, Tory MP for Aberdeen South.
He said: "Michael Russell appears to have used his visit to my constituency simply to scaremonger about Brexit.
"The fact is that the UK Government has already reached an agreement protecting the rights of all EU citizens living in the UK.
"The government has also been clear that we want to continue to attract the best and brightest to come and live, work and study here."