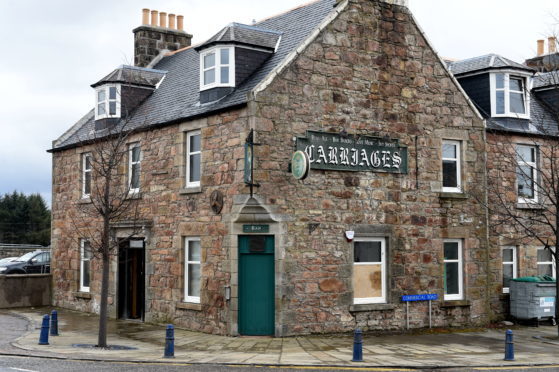 A family-owned Aberdeenshire hotel which is just months away from reopening after seven years of closure has been targeted in a "disturbing" petrol bomb attack.
The owners of the Station Hotel in Insch, formerly the Carriages Hotel, have offered a cash reward for information after they discovered a five-litre container full of fuel with a strip of red cloth tied around its handle inside the property, which is currently under renovation.
The device, thrown through a window that had been smashed with a rock, did not ignite.
But the owners say they believe whoever targeted the hotel wanted to "burn it down" in a "big fire".
Police forensics teams were called following the incident, which is believed to have taken place between 7.20pm on Monday and 7am on Tuesday.
Officers have taken the Molotov cocktail away for analysis, and are also looking at CCTV footage.
The hotel has been empty since 2011, and was last year purchased by its new owners Colin and Jackie Cruickshank, who plan to reopen it in time for this summer.
Mr Cruickshank's son Aaron, 19, is part of the team of workmen renovating the hotel.
He first noticed something was wrong when he smelled something strange as he arrived to start work on Tuesday morning.
He said: "I came in just before 7am. At first I didn't notice the window being broken, but there was a big spillage all over the floor and a really strong smell of fuel.
"Then I saw there was broken glass everywhere and a massive hole in the window, it had been shattered – we got a fair fright.
"We've spent the last 11 months trying to bring this hotel back into use, and it could have been burned to the ground overnight."
The Cruickshanks are offering a cash reward to anyone who can provide information that leads to a conviction.
He said: "The disturbing part is they didn't just smash a window, but they premeditated this action and threw a container of fuel into the building with a rag coming out of it.
"I really think their intention was to start a big fire, so it's been a bit of a shock for our family.
"I have no idea why anyone could get anything out of this.
"My wife Jackie and myself purchased the hotel in April last year, with the intention to finish it by this summer and put something back into the community.
"It's been lying empty for seven years, so we really want to transform it into a great place for the people of Insch to meet up and socialise – which makes it all the more disgusting that someone has tried to burn it down, and even worse, that person could be from the local community."
Constable Lewis Moir of the Garioch community policing team said: "Vandalism and antisocial behaviour will not be tolerated.
"The owners of the hotel are in the process of refurbishing the premises and so it is disappointing that someone has chosen to cause damage to a local business which will benefit the community in the long term.
"If anyone noticed anything suspicious in or around the area of Commercial Road, Insch between these hours, please call police on 101."
Information can also be given anonymously to the charity Crimestoppers on 0800 555 111.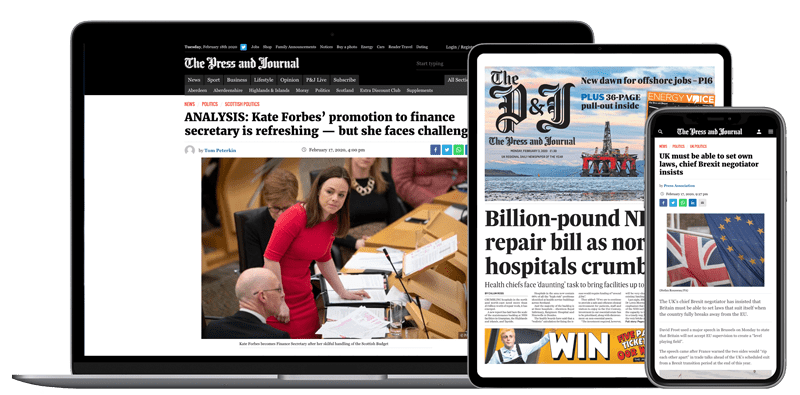 Help support quality local journalism … become a digital subscriber to The Press and Journal
For as little as £5.99 a month you can access all of our content, including Premium articles.
Subscribe