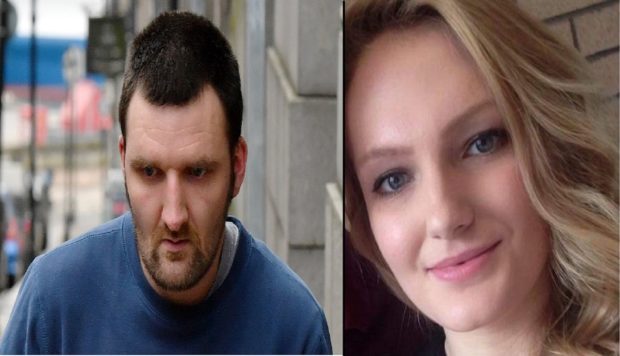 A man who strangled a woman to death while they had sex was jailed for six years yesterday.
Chloe Miazek, 20, died after she headed back to Mark Bruce's city centre flat following a night out on November 3, 2017.
The pair struck up a conversation after meeting at a bus stop in the early hours of the morning.
They went to bed at 3.30am and Bruce killed Miss Miazek, a supermarket worker, shortly afterwards.
The High Court in Edinburgh heard that the young woman lost her life after the former carer squeezed his hands around her neck. He was seen on CCTV leaving his home and wandering nearby streets for an hour before walking to a police station where he confessed to what he had done.
Bruce pleaded guilty to culpable homicide when he appeared in court last month. Judge Lord Kinclaven deferred sentence to obtain background reports and jailed him for six years yesterday.
Man admits strangling 20-year-old student Chloe Miazek to death
Placing Bruce on the Sex Offenders Register, Lord Kinclaven said there was a "significant sexual element" to the offence.
He said: "You assaulted her while engaged in sexual activity. You seized her by the neck and compressed her neck."
He added: "Clearly the family are heartbroken and devastated by their loss.
"The court appreciates there's nothing this court can do or say to reduce that pain.
"There's no alternative to a significant custodial sentence."
During the hearing, Bruce's lawyer said his client accepted he did not get consent from his victim to choke her.
Defence QC Brian McConnachie said Bruce admitted responsibility for his victim's death but did not intend for her to die.
The court had heard how Miss Miazek's ex-boyfriend told investigators that she was "interested" in sexual asphyxiation.
Mr McConnachie told the court that Bruce was remorseful for what he had done.
He added: "He accepts full responsibility for the death of Miss Miazek and he has done so from the earliest opportunity.
"It would seem to be a complete coincidence that Mr Bruce met another person who shared his interest in that particular activity.
"There was no intention on Mr Bruce's part to cause her harm."
In a statement released after court, Ms Miazek's parents paid tribute to their "loving" daughter.
They said: "No matter the outcome today or what has been said in court, Chloe – our beautiful daughter – was a young girl in the prime of her life who did not deserve to die.
"She was thoughtful, caring and intelligent and was loved dearly by her entire family and many friends.
"Losing a child is every parent's worst nightmare, but it's a reality we now face.
"We will always remember Chloe for the loving girl she was and will forever try to keep that memory alive."