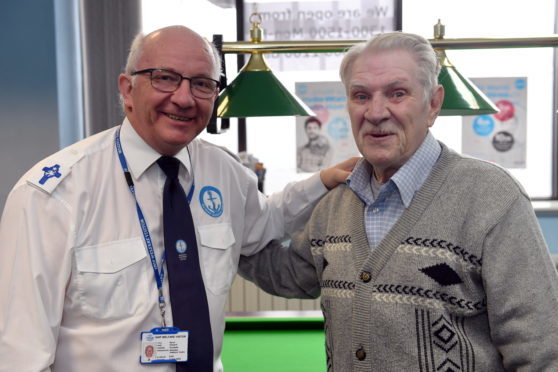 A new initiative inspired by the Men's Shed movement has been established to support lonely sailors who find themselves socially isolated after retirement.
The fortnightly Sea Shed has been organised by the Seafarer's Centre, a charity based close to Aberdeen harbour on Market Street.
The free club, which is open to anyone who retired from or has been made redundant from a career working at sea, offers the opportunity to meet others who have dealt with similar hardships to share stories and make new friends.
Howard Drysdale, a port chaplain at the centre said: "Depending on the kind of vessels, people can be out to sea for months and months at a time, and it can really put a strain on family relations and keeping up relationships with friends – many hard-working seafarers unfortunately end up forgotten about once their time at sea is finished.
"We always start off with coffee, biscuits and sandwiches and we spend the morning chatting about their time at sea – a lot of the time them will bring in historical items from their careers at sea.
"It's a great excuse to catch up with old friends and make some new ones.
"But it's not all about reminiscing, we also have a bunch of iPads that we like to use to keep up to date with the latest changes in the industry, and we get a lot of guest speakers in."
Mr Drysdale added: "We're actually working together on a project now to write an ebook about all of their experiences and what they learned at sea."
The Sea Shed meets every two weeks, with the next meeting taking place at the centre on Friday April 20 from 10am to noon.
To find out more, call 01224 590036.