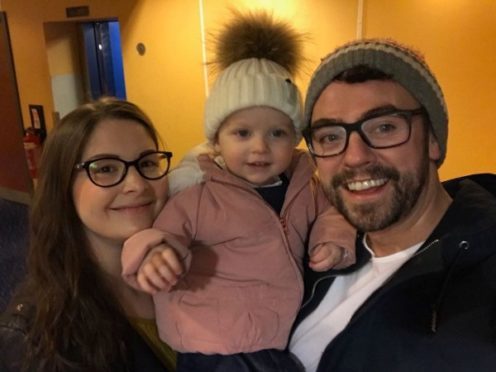 The police and the RAF will come together tomorrow to raise money to support a north-east family mourning the loss of an "amazing" woman.
Kerryann Harper, from Aberdeen, lost her battle with cancer in February at just 31.
Family and strangers rallied around the family before the death of the young mum to help her live life to the full by completing items on her bucket list, sharing their pictures with her.
She was only able to complete two of the items on the list herself – giving her one-year-old daughter Emely a special Christmas and marrying her "best friend" Gillan in January – before losing her battle against a rare ocular melanoma, which had spread from her eye to her liver.
An online appeal raised more than £15,000 to support the Aberdeen woman's family.
Now football teams from the RAF's medical services and the police will take to the field in Elgin in order to raise cash in memory of Mrs Harper and to support her toddler daughter.
Carl Spiller, who is posted at RAF Lossiemouth, originally conceived the idea of the sports contest to raise money to help the cancer-sufferer fulfil as many dreams as possible.
Yesterday, Mr Spiller explained he was still determined to help the family following the death of Mrs Harper.
He said: "I was really moved by her story and wanted to help. Initially it was for her bucket list but after speaking to the family we realised she was not going to survive much longer.
"It's so heartbreaking for them. She had a daughter who is not even two years old yet, it's impossible not to think about her.
"Hopefully we can help to give her the best start possible in life in the circumstances."
The match between the police and the RAF medical services will take place tomorrow at Borough Briggs in Elgin at 6.30pm. Entry £5, children free.