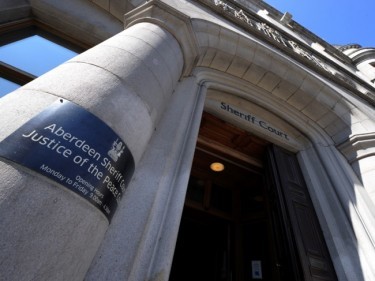 A pensioner accused of causing a pedestrian's death by driving carelessly may have failed to use her brakes before hitting the elderly woman, a court heard yesterday.
Anne Wilson, 66, was driving her blue Peugeot 208 on the A920 South Road when the car struck 89-year-old Mary Donald.
The collision, which happened close to the Market Street roundabout in Ellon, caused the death of the pensioner, who died due to complications with a head injury.
Ms Donald was taken to Aberdeen Royal Infirmary following the incident on August 20, 2016, but died three days later.
Wilson, from Ness Circle in Ellon, went on trial at Aberdeen Sheriff Court yesterday where she denied the charge.
The court heard evidence from two sisters, Gillian Moir and Claire Gray, who were in the Aberdeenshire town centre that morning.
Ms Moir told Procurator Fiscal David Barclay the pair had stopped their vehicle at the roundabout because a car was coming around it.
Mr Barclay asked Ms Moir, who was in the passenger seat, if she had seen any brake lights on the Peugeot vehicle before the incident happened.
She said: "It looked as if the car hit the lady, and then the car braked."
The court heard from other witnesses that Ms Donald went into the air, and after she landed was seen to be lying still on the road with blood coming from her nose and mouth, and the bonnet of Wilson's car had been damaged.
Ms Moir's sister Mrs Gray said the pair went to the 89-year-old's aid, and were soon joined by two off-duty medical professionals who helped her until ambulance teams arrived.
Mrs Gray added: "I got out of the car and first went to the car of the driver and said to her, 'how could you not have seen her?'
"She said 'I just didn't see.'"
The court also heard from Sergeant Peter Henderson, one of the officers who investigated the incident.
He told the court that no defects were found during an examination of the vehicle.
The trial, before Sheriff Philip Mann, continues today.