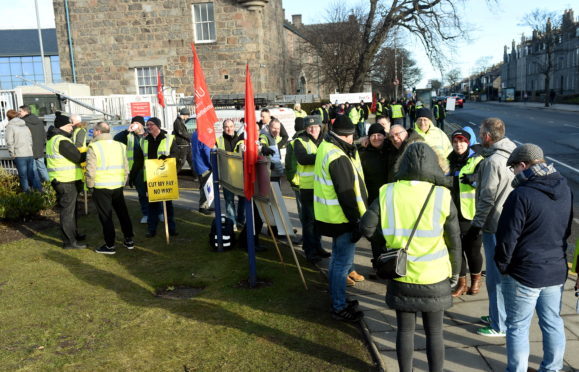 Bus drivers in Aberdeen have voted to accept a new contract offer from First Bus.
Unite the Union members voted 60% to 40% to accept First Aberdeen's offer.
Unite members vote 60% to 40% to accept First's offer. Industrial action is off. @pressjournal

— Kieran Beattie (@KNBeattie) April 12, 2018
Willie Wallace, Unite the Union's full time officer, said: "Over the last two days, Unite members have been voting on a further revised proposal.
"As a result of that vote, members have decided to accept that proposal.
"60% of our members voted to accept the proposals and 40% still against.
"It's been a long and difficult dispute, our members have been resolute in their actions and I think that action has brought the company back to the table on several occasions.
"We can now hopefully put this matter behind us and move on, and hopefully build some bridges with First Bus."
Andrew Jarvis, Managing Director of First Aberdeen said: "Our aim at the start of this process was to reach an agreement with Unite that helps us to secure the future of the business in the city and whilst there has been a compromise on both sides, this final package of terms and conditions is one that will help the Company achieve this goal.
"The new proposal includes a two-year pay deal that has been negotiated and agreed by both sides which will provide a stable platform for the business in the long term.
"Hopefully now we can all move on and work together to get the city of Aberdeen moving again. This dispute has only served to highlight to everyone just how vital our bus services are to the people of Aberdeen.
"We would like to thank our customers for their patience during this period while we sought out a solution and we apologise for any inconvenience caused."