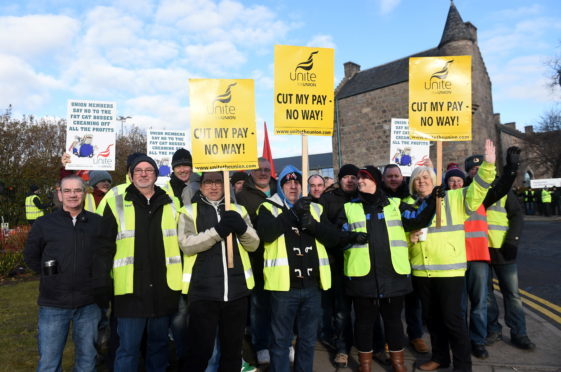 A month-long industrial dispute between Aberdeen bus drivers and First over new contract changes came to an end yesterday.
Union chiefs announced that 60% of members balloted voted in favour of accepting the latest offer from their employers.
The drivers, represented by the trade union Unite, had been embroiled in a row with the bus company over changes they initially feared would have left them £5,000 a year worse off, with less holidays and longer shifts.
Willie Wallace, the regional organiser for Unite, said: "It's been a long and difficult dispute, but our members have been resolute in their action, and I think that action brought the company back to the table on several occasions.
"Since we first saw the proposals, there were many issues that were raised, but over many meetings we've managed to reduce them.
"The final hurdle this week was the spread of the working day, and First Bus moved on that, and I think that may have influenced members in how they voted.
"We can now hopefully put that matter to rest, and move on to build some bridges that we may have to build with First Bus."
Andrew Jarvis, managing director for First Aberdeen, said: "We are delighted with the news that Unite the Union members have today voted in favour of accepting the new terms and conditions package, negotiated and recommended by their representatives earlier this week."
The industrial action, which was due to last 12 weeks, officially started on March 16 with drivers refusing to carry out overtime shifts.
Over the course of the disputes, there were 10 days of strike action.
Earlier this week Adrain Watson, the chief executive of the city centre business group Aberdeen Inspired, said many local companies were affected by the strike action, facing drops in footfall due to customers unable to travel.
Andrew Jarvis said compensation for customers who were affected by the strike action was now at the top of their agenda.
He added: "It seemed there was little point in having a month-long fares offer or something like that without reaching an agreement because there was too much uncertainty, but now we've reached an agreement, that's exactly what my commercial colleagues are looking at.
"It's at the top of our agenda now."
No details of the new agreement were released last night. Normal bus services will resume in the city today.